Pura UV Complete Ultraviolet Systems
---
Complete ultraviolet systems, available in different sizes for installation on inline tubing, under the sink, or for treating all of the water that enters your home or business.
Pura UV systems offer bacteria disinfection solutions for whole house, commercial and drinking water applications. They are available as single ultraviolet-only disinfection units, or as multi-stage ultraviolet and filtration systems for a complete home and drinking water treatment.
Whole-House Ultraviolet
---
Under-Sink Ultraviolet
---
Inline Add-on Ultraviolet
---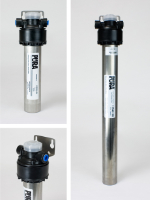 Easy-to-install add-ons to existing drinking water systems. Self-contained. Just run the water through and plug it in to an electrical source. One and Three gallons-per-minute systems available. Units easily install into existing treatment setups with 3/8" quick-connect fittings.
View Addon series details.
---
---