Countertop Filters
---
These are simple and effective water filters that install in a jiffy (or less) and last a lifetime.
A good countertop filter can be your main source of drinking water, a portable filter for travel, or a convenient source of high quality water in the remote areas of your home.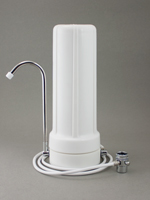 Our best-selling Model 77 uses the highest quality parts available, with several options for housing and cartridges.
This is the filter of choice for anyone seeking a solid, long-lasting carbon filter to eliminate chlorine and other chemicals from the tap.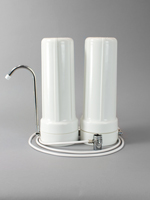 These units provide twice the filtration capacity and a plenty of variety in filtration possibilites.
Double countertop filters are an ideal choice for those seeking to add filter options, like lead and fluoride removal, that go beyond a standard carbon filter.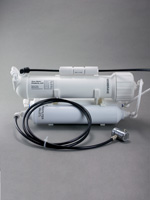 This may be the best buy in water filtration, offering the best in water technology at a fraction of the cost of similar undersink units.
These tank-free units are not for everyone, however. They lack the convenience of tank-style undersink units, producing water at a slow, steady trickle.
Parts & Cartridges
---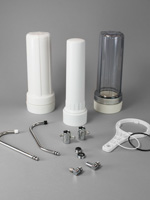 Parts for standard countertop filters (Model 77 and Double 77—see warranty*), including spouts, valves, fittings, o-rings, tubing, adapters, and more.
(*These parts are covered under the Model 77 lifetime warranty for both single and double countertop filters, so please call or email for warranty replacements.)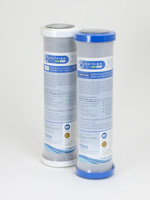 High quality replacement cartridges and membranes for all countertop units.
For the Model 77 and Double 77 countertop units, the standard size is 2.5" x 9.75".
---
---