Garden Hose Filters
Questions?
Call us at (940) 382-3814
---
We offer free tech support by phone if you have a problem in installation or service.
---

---
Pond Filter, Car Washing Filter, Garden Filter, Pool Filter — Works anywhere you use a garden hose.
---
If you need an outdoor water filter to make chlorine-free water for your petunia bed or your dog's water bowl, to reduce the hardness in the water you use to wash your car or rinse your patio, or to remove the chemicals and chlorine from the water that fills your outdoor fish pond, here's the easy and inexpensive way.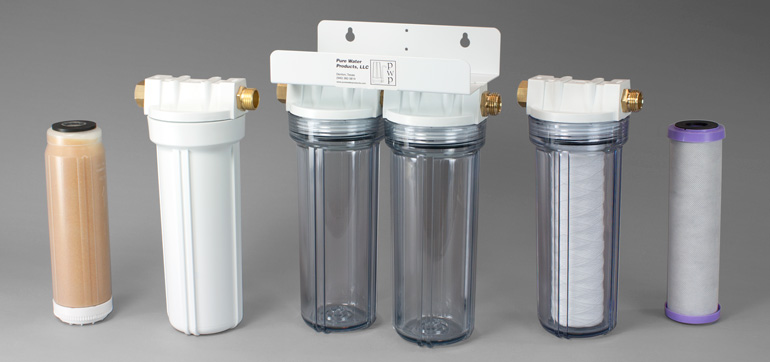 Our basic garden-hose filter uses standard-sized (2.5" x 9.75") filter cartridges and connects to standard 3/4" garden hose fittings. You'll need two hoses — one to provide an inlet and a second to deliver the water to its point of use. The adapters are included as well as a mounting bracket in case you'd like to hang the filter on a wall or the side of a garden cart.
---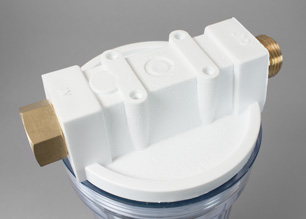 Suggested Applications
What the filter does depends on the cartridge you put in it. Here are some typical uses:
Car washing & spot free rinsing. You'll get an improved car wash if hardness is a problem, but we recommend that you read our discussion of the illusive "spot-free car wash" as well as our capacity chart for softening cartridges. (For greater softening capacity, see our Garden Hose Water Softener.)
Sediment filtration for removal of sand and silt and for cleaner, clearer water in general.
Chlorine, chloramine and all-around chemical reduction for plants & animals. To water your garden, fill your dog's bowl, or add water to your fish pond.
Remove iron from water for hot tubs and small pools. (Iron reduction is tricky and cartridge capacity is limited. We recommend that you read more about iron reduction or call for advice before purchasing.)
Raise the pH of acidic water.
---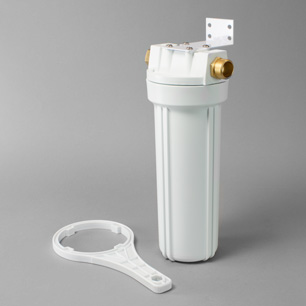 White Garden Hose Filter
White filters cost less than clear, not because they're inferior but because it costs more to make a clear filter housing. White housings have the advantage of not allowing algae to grow, as sometimes happens with clear. (Algae need light.)
Each unit inludes the following:
Garden Hose Adapters (Installed)
Mounting Bracket with screws
A Filter Wrench
A filter cartridge is not included. It must be ordered separately.
---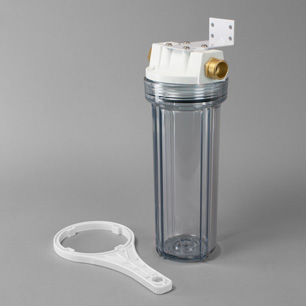 Clear Garden Hose Filter
Clear garden hose units are handy because they allow you to view the condition of the filter cartridge without opening the housing. This is a nice feature if you're using a sediment filter or a carbon block filter. It has the disadvantage of costing a bit more.
Each unit includes the following:
Garden Hose Adapters (Installed)
Mounting Bracket with Screws
A Filter Wrench
A filter cartridge is not included. It must be ordered separately.
---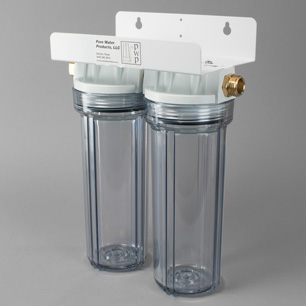 Double Garden Hose Filter
Double filters have twice the filtration capacity and the advantage of multi-purpose use. For example, placing a sediment cartridge in the first canister will protect the more expensive carbon block cartridge in the second canister from premature blockage from sediment. Double filters are especially valuable if you're removing chloramine, which requires longer contact time for removal. Two softening cartridges last twice as long as one.
Each unit inludes the following:
Garden Hose Adapters (Installed)
Mounting Bracket with Screws
A Filter Wrench
Filter cartridges are not included. They must be ordered separately.
---
Suggested Filter Cartridges
The garden hose filters on this page all use standard sized 2.5" x 9.75" filter cartridges. You can buy replacements from us (certainly the best plan) or (perish the thought) from almost anyone else who sells water filters.
The following cartridges will fit all of our standard sized Garden Hose Units. Additional cartridge choices for these units can be found on our 2.5" x 9.75" cartridge catalog.
Volume discounts of 10% for two and 15% for three or more apply to filter cartridges.
Amazing 20,000 gallon chlorine capacity and great chemical removal properties. Our most popular cartridge. (Formerly MatriKX +1.)
A tight nominal 0.6 micron block that is often called "the chlorine guzzler," the CTO Plus is the standard cartridge for our Model 77 countertop filter and all our Black and White undersink filters. It's the final filter in our best reverse osmosis units. As its name indicates, it is a "Chlorine/Taste/Odor" filter Plus a top performing chemical remover. It has a chloroform reduction capacity of 500 gallons, which indicates that it will remove virtually any chemical contaminant.
A water softening cartridge filled with standard cation softener resin. Frequently used for car washing and window cleaning. Works best at low flow rates.
Softening cartridges can be regenerated & reused by soaking them overnight in a salt solution.
(Please see our Softener Cartridge Capacity Chart and our Spot Free Wash information pages.)
A calcite cartridge designed to raise pH and TDS of low pH / low mineral water.
Calcite raises pH to around a neutral 7.0. It is not to be confused with systems designed to produce unnaturally high or "alkaline" water. This cartridge should be followed by a carbon filter for best results, and flow rates should be limited to one gpm or less.
A popular depth filter for normal sediment applications.
Depth filters are best when a variety of particle sizes are being filtered. Compared with pleated filters, they have a limited surface area, but the advantage of depth.
A Pentek carbon block for chlorine, chloramine, and chemical reduction. Manufacturer rated for 2,500 gallons chloramine reduction at 0.5 gpm.
Much greater range in chlorine reduction and taste/odor improvement. More information
---

Garden Hose Water Softener
This high-capacity water softener is ideal for RVs, car washing, window washing or anywhere that hard water causes scale buildup or spotting.
Garden Hose Iron Filters
Garden hose filters and cartridges for iron removal.
Related Garden Hose Filter Links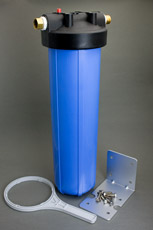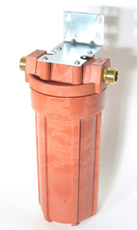 ---
---