Pure Water Products Residental Water Softeners with Fleck 5600 SXT Control
---
Questions?
Call us at (888) 382-3814
---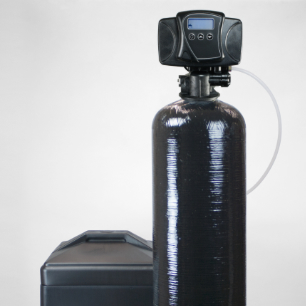 Pure Water Products does basic water testing at no charge. If you'd like, send us a sample.
Residential water softeners are important water treatment devices that protect water heaters and appliances, make soap lather better, prevent scale buildup on fixtures, and generally make water more pleasant and life more enjoyable. They are not water filters, but ion exchangers. They trade sodium for calcium and magnesium, the minerals that make water "hard."
Standard ion exchange water softeners have been in use for over a century, and they get better all the time. Their enduring popularity with residential users attests to their effectiveness.
Softener Pros and Cons
While softeners are most often used to remove calcium and magnesium from water, in some conditions they can also remove iron, manganese, lead, and even ammonia.
A softener is definitely the best product for removal of "hardness" ions calcium and magnesium which cause scale buildup in plumbing, staining of fixtures, and spotting of glassware in dishwashers and surfaces of recently washed cars. Soap does not lather well in hard water and hot water appliances exposed to hard water suffer a buildup of deposits, reducing their effectiveness and shortening their lifespan. Softeners cure those problems.
Softeners, however, also have some disadvantages.
Softeners don't remove chlorine, they don't treat odors, and they're not good at filtering particulates like sand and iron rust.
In the softening process, hardness minerals are "exchanged" for sodium, giving softened water an elevated sodium content which is often viewed negatively regarding human health. That's why softeners are often sold along with a reverse osmosis drinking water system that remove the sodium the softener puts in.
In regard to the environment, adding sodium to waste water can present a water recycling problem for municipal water departments. Softeners are banned or their use is severely regulated in some areas.
Other negatives include softeners' salt consumption (the owner has to buy and handle the heavy softener salt) and the aesthetics of softened water which sometimes has a "slick" feel that many people do not like.
Fleck 5600 SXT : Basic and reliable performance for residential softeners
We sell good, solid, basic softeners at a reasonable price. We purposely make them not as fancy as they could be. The softeners on this page feature the old faithful Fleck 5600 control valve (introduced initially in 1980, with basic improvements over the years, and still going strong), equipped with the latest Fleck SXT electronic programming system. The reliable and proven 5600 control is designed to perform flawlessly for decades. We ship the softener pre-programmed for optimal performance on your water and with consideration for the size and special needs of your application, but we also include full control valve programming instructions in case you want to change the default settings. All parts of our softeners are heavy-duty standard industry equipment. There is nothing trendy or irreplaceable and there are no hidden costs or extras.
Advantages of Pure Water Products water softeners:
All use the reliable Fleck 5600 metered SXT control. Fleck 5600 control valves are easy to service, and parts are easily available and inexpensive. Metered, on-demand regeneration, standard on all units, saves salt and water. It adjusts automatically to changes in water usage. It can also be easily programmed for short service runs, desirable for iron removal from well water.

All use effective, long-lasting Nelsen brand cation softening resin.

All come standard with a Fleck stainless 3/4" or 1" FNPT stainless steel bypass valve, 25 feet of drain tubing, brine tank (with safety shutoff) and media installation funnel.

All come pre-programmed for your specific water. Before you purchase, email or call us for help with sizing. This is highly recommended unless you are sure about sizing.

All of our softeners include clear installation instructions, valve reprogramming instructions, and a complete record of how your unit is set up.

5-year manufacturer warranty on Fleck Valve & 10-year manufacturer warranty on Structural Tank.

All units are shipped promptly, and we pay shipping to all lower-48 addresses. (We do not ship softeners outside the US or to Hawaii or Alaska.)
Water Softener Systems
Please call (888) 382-3814 for help with sizing. (Bigger isn't always better.)
8" x 44" tank, 0.75 cubic feet Softener Resin. Includes brine tank with safety shutoff, steel bypass valve and installation accessories.
9" x 48" tank, 1.0 cubic feet Softener Resin. Includes brine tank with safety shutoff, steel bypass valve and installation accessories.
10" x 54" tank, 1.50 cubic feet Softener Resin. Includes brine tank with safety shutoff, steel bypass valve and installation accessories.
12" x 52" tank, 2.0 cubic feet Softener Resin. Includes brine tank with safety shutoff, steel bypass valve and installation accessories.
---