Whole House Filters
---
Questions?
Call us at (940) 382-3814
These are large units that filter all incoming water. A great choice for homes, small businesses, and restaurants.
Whole house filters can be set up to treat many water issues. We offer cartridge and tank-style media models, reverse osmosis units, aeration systems, and water softeners.
Cartridge-Style Filters
---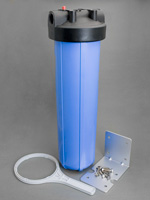 Compact cartridge-style systems are economical, highly effective, and easy to install and maintain.
These systems are an ideal choice for either sediment removal or chlorine/chemical reduction. (We also offer a system that does both.)
Tough and versatile stainless steel filter vessels, perfectly sized for residential or light industrial applications.
Like the compact units above, these are a great choice for sediment removal or chemical/chlorine reduction.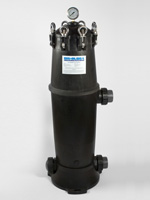 Big Bubba units are economical, tough and simple to maintain. They utilize a single "jumbo" cartridge filter designed for high flow rates.
They're a great choice for high-flow-rate and high-pressure sediment removal and chemical reduction. They're also corrosion-resistant enough to handle sea water.
Tank-Style Media Filters
---
Backwashing filters use large media tanks to address a variety of water treatment issues. Media is renewed with a regular "backwash" that rinses away contaminants.
We offer a wide range of media to address water treatment issues for both city and rural customers: chlorine/chemical reduction, iron removal, pH adjustment and more.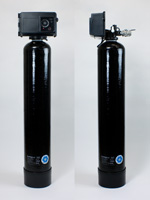 A backwashing filter designed to remove chloramines and other chemical contaminants with Centaur® catalytic carbon and an innovative tank design.
Catalytic carbon has a much better ability than regular filter carbon to "chemisorb" chlorine into harmless substances like chloride.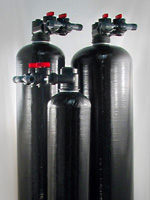 A simple, economical alternative to backwashing filters for removing chlorine, chloramines and other chemical contaminants from relatively clean water.
These filters don't require any electricity because they don't "backwash" like our Chloramine Catcher and backwashing filters.
Reverse Osmosis
---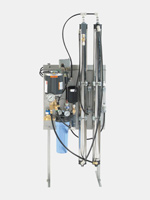 Whole house reverse osmosis units for contaminants that are difficult—or impossible—to remove with cartridge filters and media-based backwashing filters.
Reverse osmosis units effectively remove sodium, chloride, fluoride and other difficult-to-treat contaminants. For certain difficult waters, it's the only solution.
Aeration
---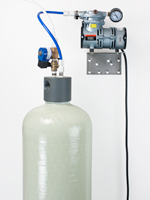 Aer-Max aeration systems are a relatively trouble-free and completely safe way to remove iron and hydrogen sulfide from well water without adding chemicals.
Water Softening
---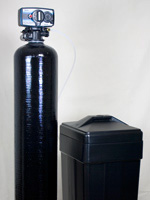 Water softeners are ion exchangers, used to treat "hardness" ions that cause the scale, staining and spotting that can shorten the lifespan of some home appliances.
In certain low pH conditions, they can also be used to remove moderate amounts of iron.
---
---