Stainless Steel Whole House Filtration Systems
---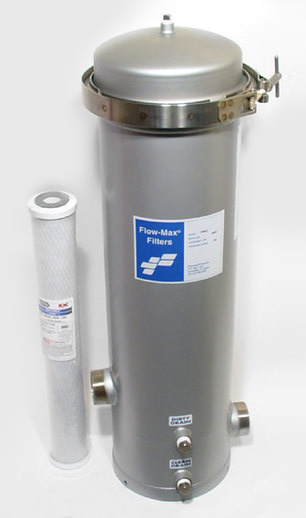 Whole House Water Filter
for Chlorine or Sediment Removal
This exceptionally tough and versatile stainless steel filter vessel is perfectly sized for residential or light industrial applications. Economical to maintain, it uses four standard 2.5" x 20" cartridges and is ideal for either sediment filtration or chemical/chlorine removal.
With sediment cartridges, it can support very high flow rates. With carbon block cartridges, it provides long-term chlorine/chemical removal and relatively high flow rates.
Constructed of 100% stainless steel (#316L), it will withstand pressures of up to 150 psi and temperatures to 250 degrees (housing only — most cartridges limit temperatures severely, although we can supply high temperature sediment cartridges).
The top plate that holds the cartridges is adjustable, which adds versatility and allows the use of eight 9.75" inch cartridges rather than four 20" cartridges, if desired.
With the convenient clamp band (see picture below), changing cartridges couldn't be easier.
Large 2" in and out ports allow for installation on virtually any residential system.
Separate drains (1/2") are provided for both unfiltered and filtered water chambers.
Standard Unit
Complete unit, without filter cartridges.
Not required, but they raise the unit off the ground and provide a stable installation. Compete with bolts, screws and washers. All stainless steel.
Premium Unit
Premium unit features heavy duty legs (taller and stronger than mounting tabs) and factory-installed pressure gauges on both in and out ports. The dual pressure gauge arrangement provides an objective and easy way to determine when cartridges need replacement. (Cartridges sold separately.)
You will also need to select cartridges from either the commonly used list below, or our Cartridge Menu.
Commonly Used Cartridges
Note: This unit will accept any radial 2.5" X 20" filter cartridge from our cartridge menu. It will not work with axial cartridges. Radial cartridges are identified by a central hole that extends through the cartridge—most carbon blocks and sediment cartridges are radial.
Volume Discount
Each of the cartridges below are offered with a volume discount of 10% off for two, or 15% off for three or more.
Sediment cartridges with higher micron ratings are available on our cartridge menu.
---