Big Bubba Whole House Filter
Questions?
Call us at (888) 382-3814
---
We offer free tech support by phone if you have a problem in installation or service.
---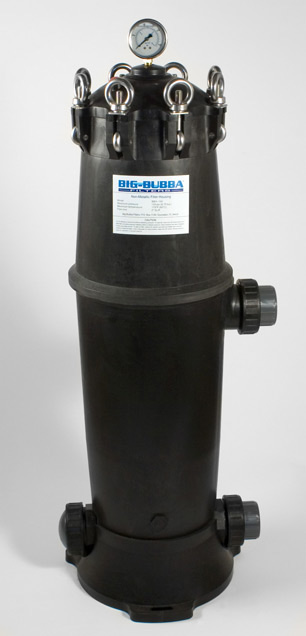 Heavy Duty Housing with 300 psi burst pressure.
---
Big Bubba is a unique water filtration system made by Watts Water Technologies, America's premier maker of water treatment products. Here are some of its outstanding features.
---
Big Bubba is Big
Big Bubba is very big as cartridge-style water filters go. It has 2" inlet and outlet ports and uses specially made cartridges with large diameter centers to ensure as little flow restriction as possible. It can support a flow rate of up to 150 gallons per minute with a pleated sediment cartridge, and even the carbon cartridge is designed for service flow peaks of up to twenty gallons per minute.
Big Bubba is Tough
Big Bubba's glass reinforced polypropylene case, together with the stainless steel clamps and eyebolts that connect the cap, can withstand a 300 psi burst pressure. Big Bubba has a working service capacity of up to 125 psi (as compared with 80 psi for most "Big Blue" style housings). Its materials are so corrosion-resistant that it can be used in sea water applications.
Big Bubba is Simple
Big Bubba comes in one style only, with no frills. It has a top-mounted pressure gauge to monitor the inner water pressure, and the installer can add a second gauge on the outlet side to provide a pressure-differential monitor as an indicator of cartridge condition. There are no electronic controls and no electrical connection is needed.
Installation is very simple. Big Bubba has 2" slip inlet and outlet ports. It is provided with 3 ports so that it can be installed as a straight-through inline or in a reverse flow (horseshoe) design. (A cap is provided for the unused port.) Big Bubba is designed so that multiple units can be easily installed in parallel (side by side) or in series.
Maintenance is also very simple. Big Bubba cartridges are provided with a handle and they lock in place in the housing with a turn of the wrist. No tools are needed. The lid removes with easy-to-use stainless steel swing bolts. Again, no tools are needed.
Big Bubba is Versatile
Big Bubba can serve as a very high flow sediment filter or a high volume whole house filter for residential dechlorination. It can be installed as a single unit, in tandem to provide an exceptionally high-flow system, or in series, to offer varying levels of filtration.
Big Bubba can provide more than 150,000 gallons of whole house chlorine removal on a single cartridge, or it can be used as a whole house residential sediment filter where high flow rates are needed. It can be an economical commercial or industrial filter, serve as a prefilter for large reverse osmosis units, or be used in seawater applications where a corrosion-proof housing is necessary. There are many industrial, commercial, and residential applications.
Big Bubba is Economical
Compared with tank-style filters of similar performance capacity, Big Bubba is inexpensive to purchase and inexpensive to operate. It uses no water for backwashing and no electrical connection is needed. There is no electronic control valve to repair or replace.
Big Bubba as a Whole House Chlorine and Chemical Reduction Filter for City Water
The advanced-design pleated powdered activated carbon filter for Big Bubba has an amazing 41.5 square feet of filtering surface. As compared with carbon block filters, the pleated design provides virtually unrestricted flow and far greater resistance to premature clogging. The filter has a theoretical dechlorination capacity of about 140,000 gallons of ordinary city tap water at 12 gallons per minute. The Big Bubba cartridge is ideal for long term chlorine removal and aesthetic improvement of city tap water.
Big Bubba as a Sediment Filter
Big Bubba is available with 10 sediment removal cartridges to choose from. The free-flowing , high volume pleated cartridges come in six sizes, from a very tight one micron absolute to to a free flowing 150 micron mesh cartridge. Five, 20, 50, and 150 micron versions of the pleated cartridges are cleanable and reusable.
In addition, four sizes of spun polypropylene depth cartridges are available — one micron nominal, five micron, twenty micron, and fifty micron. Depth cartridges are preferred for use with gelatinous substances and certain chemical issues. Depth cartridges are not cleanable.
Big Bubba Details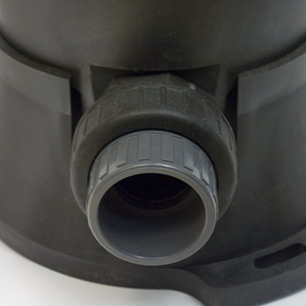 Main Housing Material
Glass Reinforce Polypropylene
Eyebolt Material
304 Stainless Steel
Housing O-Ring Material
EPDM
Fitting Type, Both Inlet and Outlet
2" Slip
Drain
3/4", with plug
Overall Height
40"
Overall Width
12"
Maximum Flow Rate with Pleated Sediment Filter
150 GPM (Gallons per Minute)
Maximum Flow Rate with Depth-Style Sediment Cartridge
100 GPM
Maximum Flow Rate with Carbon Filter
20 GPM
Maximum Working Pressure
125 psi
Housing Burst Pressure Rating
300 psi
Maximum Temperature for Housing
175 °
Filter Cartridge Change Recommendation
Sediment: 30 psi pressure drop.
Carbon: 6 to 12 months.
Housing Stress Test
100,000 cycles, 1 to 150 psi
Order Big Bubba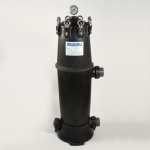 Big Bubba Filter Cartridges
Links to Additional Information on this site
---