Black and White Series Undersink Filters
Questions?
Call us at (888) 382-3814
---
We offer free tech support by phone if you have a problem in installation or service.
---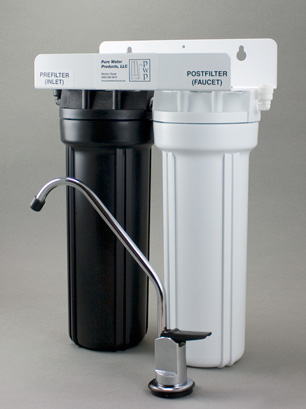 ---
---
---
Undersink Water Filters, Cartridges, and Parts. Single, Double, Triple and Quadruple Filters.
---
Multi-cartridge filters are much under-rated. A good undersink double or triple filter can produce very high quality drinking water for many years with maximum convenience, minimum maintenance, and at a cost that is only a fraction of that of bottled water. Undersink filters use neither electricity, like a distiller, nor water, like reverse osmosis, so they're economical performers with a basic simplicity that makes them almost maintenance-free.
Our basic Black and White series includes single, double, triple, and now even quadruple undersink filters. All use top quality, heavy-duty parts. All are standard sized to make parts easy to find, and so tough you should never need parts except filter cartridge replacements. Filter cartridges are the most common size made, the basic "10-inch filter" sold everywhere.
The basic Black and White undersink units include a choice of our basic Pro-Flo or the Contemporary "Value" Tomlinson brand faucets (other styles and finishes are available on our faucet page) and an inlet valve for easy installation. Fittings are all John Guest quick connect — push the tubing into the fitting and forget it. No tools needed.
All our Black and White single, double, triple and quadruple filters are mounted on brackets and can be either hung on the wall or stood in a secure undersink location.
Standard filter cartridge setup is given in the price list below, but other cartridges are available and may be substituted to meet special needs. (If you substitute cartridges, the easy way to order is by phone, or if you prefer, you can order the standard system on the shopping cart and add your cartridge substitution instructions to the Comments section of the shopping cart.)
The cartridges, which form the heart of these systems, are rugged, effective top performing carbon blocks. Specialty cartridges, top quality "media" filters, are also offered. These can be used to reduce problem contaminants like nitrates, sodium, and fluoride, although cartridges in this category usually have limitations. (If sodium removal is a major concern, as an example, you would do better to look at a reverse osmosis unit, because specialty sodium cartridges have a short lifespan and can be expensive to replace. Reverse osmosis removes fluoride, sodium, and nitrates by its nature without added specialty filters.)
---
There is no shipping charge for these units for UPS Ground shipment to the Continental US.
Please go here for an explanation of shipping alternatives.
Other Cartridges from our Cartridge Menu can be substituted, in most cases without additional charge. Cartridges in the 9.75" X 2.5" category fit these units. If you want to make cartridge alterations, just tell us what you want in the Comments section of the shopping cart. Or, call (888) 382-3814.
Note: The systems on this page include ledge faucet and inlet valve. For models that simply filter all the cold water coming from your present sink faucet, go here.
---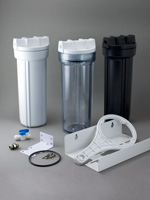 Parts for all undersink water filters, including housing and brackets, faucets, inlet kits, o-rings, screws, tubing and more.