Double Undersink Filter
---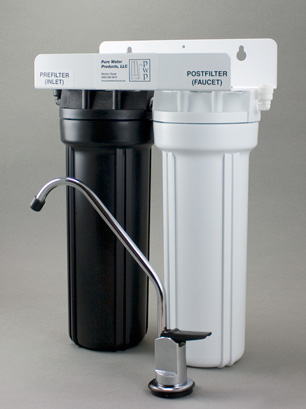 Double undersink filters are in may ways the best buy in an undersink water filter. They give you a generous amount of filtration, plus variety.
Doubling up allows you to add specialty items like lead removal, fluoride removal or even bacteria removal without giving up the advantages of a full-sized carbon block filter for chemical removal and taste/odor improvement.
The standard filter set-up in our doubles, what you'll get if you don't specify otherwise, is the MatriKX CTO+ (formerly KX-1) and Pb1 cartridges. This combination gives great chemical capacity, superb chlorine reduction, lead reduction, and cyst (giardia/cryptosporidium) removal.
---