Single Undersink Filter
---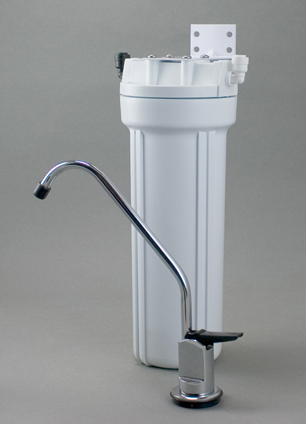 The unit comes with filter cartridge, inlet valve, ledge faucet, filter wrench, mounting bracket and any refrigerator hook-up fittings you request. It features John Guest push-in fittings for very easy installation. Both inlet valve and faucet have tubing attached for very easy installation and leak-free performance.
Standard cartridge — what you get if you don't specify otherwise — is the Matrikx CTO+, a tight and effective extruded carbon block that's great at chlorine and general chemical removal. It's also a great taste/odor enhancer.
Suggested alternates — which you can have at no additional cost just by requesting them, are:
MatriKX Pb1: A high quality carbon block filter that's also rated for lead and cryptosporidium/giardia reduction.
Filtrex VOC: A high quality coconut shell carbon block for greater reduction of volatile organic chemicals.
Pentek ChlorPlus 10: Premier quality catalytic carbon block for chloramine reduction and high capacity chlorine reduction.
Recommended Cartridge: MatriKX CTO+. High capacity dechlorination and chemical removal, great taste and odor filter. Change cartridge annually.
---