Enhanced Performance Undersink Fluoride Filter
---
Questions?
Call us at (888) 382-3814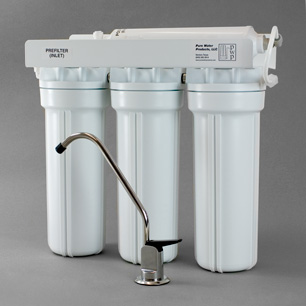 ---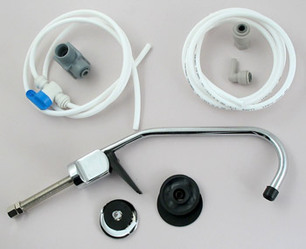 The fluoride filter comes with its own ledge faucet and inlet hardware — everything you need to install. (Inlet kit may vary.)
---
This unit includes your choice of our Tomlinson brand Pro-Flo (pictured) or Contemporary "Value" style ledge faucet. Please select the faucet style during checkout. (Additional pictures, faucet styles, colors & finishes are available at our faucet page.)
The World's Second Best
Fluoride Remover
The best undersink device for removing fluoride from drinking water is a reverse osmosis unit. The third best way is with a standard filter with an activated alumina (AAL) filter cartridge—the kind that lots of people (including us) sell.
The second best way to remove fluoride from drinking water is with our Enhanced Performance undersink fluoride filter. It outperforms standard undersink fluoride filters by simply doubling the amount of fluoride removal media. This is accomplished by providing two AAL cartridges rather than one. There is no magic or tricky engineering involved—just twice as much fluoride removal media. (Actually, as compared with some of the small format filters now on the market, this unit has three or four times the fluoride capacity.)
The standard filtration medium for removing fluoride from water is activated alumina. AAL, as it is usually called, has one major problem that sellers of fluoride filtration systems conveniently ignore. It requires a very long contact time between the water and the fluoride reduction medium.
A carbon filter that's used to remove chlorine, by contrast, works quickly. With a standard-sized carbon filter, chlorine can be handily removed at a flow rate of 3/4 to one gallon per minute. Activated alumina, on the other hand, needs double or triple the residence time of carbon.
The Enhanced Performance Fluoride Filter provides a way to slow the flow down for optimal performance, but it also doubles the fluoride resin content to provide superior performance even when the user chooses to operate the filter at full delivery speed.
The Enhanced Performance Fluoride filter is a quadruple filter unit. It features a top quality carbon block filter (MatriKX CTO+) to remove chlorine and chemicals, two fluoride reduction cartridges (ResinTech fluoride media), and a final KDF/Coconut shell carbon inline filter to polish the taste and remove lead and heavy metals. The fluoride filter has the standard inlet system and faucet that we use with our best reverse osmosis units.
The filter is easy to install and easy to service. Unlike our earlier fluoride unit, the new Enhanced Performance Fluoride filter does not need a storage tank. It is, therefore, more compact and requires much less maintanence. We've reduced the price to reflect the price of the tank that is no longer needed. We offer a filter pack that includes everything you need for annual service.
Vital Statistics:
| | |
| --- | --- |
| Height | 14.5" |
| Depth | 6.5" |
| Width | 17" |
Enhanced Performance Fluoride Filter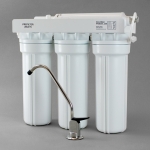 4-Stage unit, with Double Fluoride Capacity. Complete with four filter cartridges, faucet, inlet system and tubing. Also includes a filter wrench to facilitate cartridge change, and instructions for installation and upkeep.
Replacement Cartridges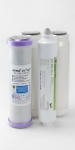 Replacement cartridges for Enhanced Performance Fluoride Filter. Includes two Activated Alumina Cartridges, MatriKX CTO+ and an inline GAC/KDF cartridge with fittings.
Media

Activated Alumina

Activated Carbon

KDF 55
Replacement Cartridges for "Classic" Systems
Important Note: The filter pack above is for units sold after October 2014 only. Earlier units with black/blue housings and storage tank use the three filters below.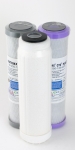 Replacement Filter pack for "Classic" Enhanced Performance Fluoride Filter produced prior to November 2014. Contains AAL Fluoride Cartridge, PB-1 Carbon Block and KX-CTO+ Carbon Block.
Media

Activated Alumina

Activated Carbon

Lead Removal Resin
---

Parts for all undersink water filters, including housing and brackets, faucets, inlet kits, o-rings, screws, tubing and more.