Chemical Feed Pumps & Supplies
Questions?
Call us at (888) 382-3814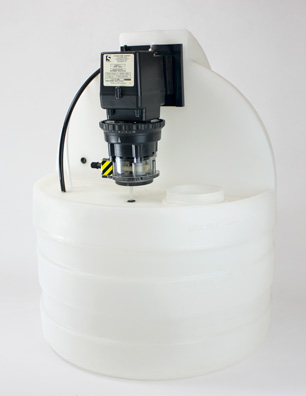 Pure Water Products does basic water testing at no charge. If you'd like, send us a sample.
---
Peristaltic Chemical Feed Pumps, Tanks, Hydrogen Peroxide, Soda Ash, Static Mixers, Iron Sequestering Agents, and more.
---
Chemical/Mineral feed systems are among the most effective, versatile, and cost-efficient of water treatment devices. Depending on the chemical agent used, the same equipment can treat bacteria, iron, manganese, low pH, hydrogen sulfide (rotten egg smell), and many other water problems.
Multiple problems may even be addressed with a single treatment system. For example, if the pH of your water is too low for effective iron removal, you can increase the pH by injecting soda ash, and add chlorine to oxidize the iron in a single operation.
And equipment purchased for one purpose can be easily converted to another. The high quality Stenner peristaltic pump can be used to feed chlorine or soda ash, for example, but is also capable of feeding hydrogen peroxide without losing its prime.
Feed systems are simple to install and to operate. (Go here for a diagram of a typical feed pump setup.)
We've divided this page into parts. Part A contains the essential equipment that any Stenner injection system needs to have. Part B includes useful and sometimes necessary add-ons. Part C lists some chemicals that can be injected with an injection system. Part D offers an informational summary of suggested chemical feed setups for common water problems.
What you must have:
A solution tank to hold the solution you're going to inject into your water.

A pump to feed the solution into your water line.

A simple tee connection to provide an entry port for the solution into your water line.
Some useful and often necessary additions:
A holding, or retention tank, to allow the agent you've injected more residence time to do its work. Adding retention time always improves efficiency, and with some treatments — like using chlorine to kill bacteria — it's essential.

A "static mixer," which can replace the simple tee connection and greatly improve performance by mixing the solution quickly and thoroughly with your water.

Filters are sometimes needed to remove the "precipitated" contaminant (iron, for example), or to remove an injected chemical and its by-products after it has done its work. Chlorine, for example, can create some very undesirable spin-off chemicals.
Part A:
Essential Equipment: Pumps & Tanks
A Stenner Peristaltic Pump can be used for virtually any chemical feed application. All of our Stenner Pumps are basically the same, with minor differences noted in the chart below. They are all 100 PSI, with an easily adjustable feed rate.
They can be easily maintained with snap-on parts, and every pump comes with full instructions and installation kit. Pumps require easy routine maintenance.
Stenner Peristaltic Pumps
Solution Tanks & Accessories
Stenner Solution Tank, 15 Gallon
Chemical Solution Tank Bulkhead Fitting
Part B: Useful and Often Necessary Items
Retention Tanks
WellMate 30 Gallon Retention Tank, 16" X 44"
WellMate 40 Gallon Retention Tank, 16" X 56"
WellMate 80 Gallon Retention Tank, 21" X 67"
WellMate 120 Gallon Retention Tank, 24" X 73"
Inline Mixer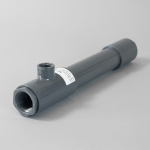 Replaces a standard PVC tee. Greatly enhances and speeds up chemical reactions by creating turbulence. Comes with 1" female pipe thread.
Rain Roof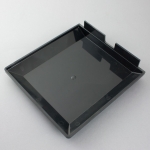 Part C:
Products That Can Be Injected With Our Chemical Feeder Systems
Note: With the exception of hydrogen peroxide, the products below can be shipped without hazardous materials surcharge. In most cases, we can sell a single bottle. Please inquire about availability.
Chlorine pellets, which require hazardous shipping procedures, are not listed here but are listed for sale on our WellPro Dry Pellet Chlorinator page. If you plan to inject liquid chlorine with a pump, regular household bleach from the supermarket is your most economical source. (See our handy Chlorine Dosage Chart.)
Part D: Suggested Chemical Feed Setups
Below is a brief summary of problems that you might treat with a chemical feeder system. This is not an exhaustive list and it is not a performance guarantee. Here, as with any water treatment strategy, results can depend on many variables. It's often best to get advice before ordering.
Problem
Suggested Solutions
Bacteria

Iron &/or Manganese

A Chlorine Feed System from this page followed by a carbon filter to to remove the chlorine and the iron. With iron removal, a backwashing filter is necessary.

Or, a Hydrogen Peroxide feed system from this page followed by a carbon filter to remove the iron.

Alternative Treatments you might want to consider:

Hydrogen Sulfide
(Rotten Egg Smell)

A Chlorine Feed system from this page followed by a carbon filter.

Or, a Hydrogen Peroxide feed system from this page followed by a carbon filter.

In both items above, if no iron is present in the water, a cartridge-style carbon filter will usually work.

Alternative treatments to consider:

Aeration followed by carbon filtration.

Dry Pellet Chlorination followed by a carbon filter.

Iron
(Stains on Driveways & Buildings)

A phosphate feed system from this page.

Alternative treatment to consider: Pro Rust Out to remove existing stains. (Listed below at the bottom this page.)

Low pH

A soda ash feed system from this page.

Alternative treatment to consider: Backwashing Calcite Filter.
Related Product: Rust Stain Removal
While not to be injected with a feeder pump, Pro-Rust Out is a handy related product for removing existing Iron (rust) stains.

Parts for your existing Stenner Injection System. Replacement tubes, ferrules, connecting nuts & misc parts are all available on our chemical injector parts page.
---