"Outside of a dog, a good countertop water filter is man's best friend. Inside of a dog,
it's too dark to drink water."
—Groucho Marx.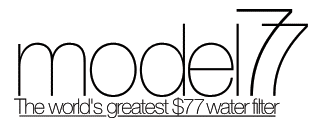 Model 77 — the world's greatest $77 water filter
---
Choosing a Model 77
The easy way: Choose the standard model. This is the most popular format and it's the standard white vessel, with a gooseneck spout and the MatriKX CTO+ carbon block cartridge. It's the first unit pictured in the table below. It's our unchallenged best seller, for a reason. It's an attractive, superb performer in all situations—city water or well water.
When you order, by phone or our online shopping cart, you'll need to choose (a) a housing style, (b) a spout style, & (c) a filter cartridge.
(a) The housings are described & pictured in the ordering table below.
(b) Here are the choices in Stainless Steel Spout Styles: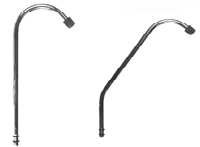 1. Standard Gooseneck Spout (left)
2. Long-Reach Spout (right)
(c) Finally, choose a filter cartridge. (Any standard 9.75" X 2.5" filter cartridge—the most common size made—will fit vessel Styles 1-4, & any "Doulton candle" style cartridge will fit vessel Style 5. We recommend especially the cartridges listed below, but you can also choose other selections from our "Cartridge Menu."
When you view the Cartridge Menu (available at the end of this document or go here), remember that all 9.75" X 2.5" cartridges will fit standard Model 77, and all "Candle Style" or slimline cartridges fit Model 77s.
Model 77 makes a great gift!
A countertop filter stands alongside the bicycle as one of those wonderful, simple, economical devices that last forever, provide great service & long-time benefits. Don't deprive yourself of one any longer!
We've been perfecting the Model 77 countertop filter since the late 1980s. We think it's the best standard countertop that can be made. We use the best parts available, offer a varied selection of vessel and filter cartridge styles, & give a long guarantee. Long, as in lifetime. Go here to read our Model 77 warranty. We support this fine countertop water filter completely. We stock all parts & a wide range of filter cartridges for it. If a part fails, call & we'll replace it.
It's sold as a lifetime appliance—something you can depend on to provide safe & delicious water as long as you keep it serviced. And the price is still just $77 for all models.
Installation is quick & easy—so easy you can take it with you when you travel. Go here for complete installation instructions.
Go here for a full page of Parts for Countertop Water Filters.
A good countertop filter is a friend forever—a versatile, dependable tool. You can use it at home, take it with you when you travel, or move it easily if you change your place of residence. You can quickly and easily convert it to a "gravity" filter for camping or emergency purposes. The simple one-piece conversion kit is free for the asking when you purchase the unit. For Siphoning Instructions, go here. You can easily service this filter yourself with no special tools.
A good countertop filter can be your main source of drinking water, or because of its low price, it can be used for travel only or as a convenient source of high quality water in remote areas of your home, like bathrooms and workshops.
Go here to read a lot more reasons why you won't find a better countertop filter than our Model 77 anywhere.
Prices for all Model 77 Styles are the Same: $77!
To order, choose the vessel style. In the shopping cart, you'll be asked to choose a cartridge and a spout style. You can also order by calling (940) 382-3814.
---
Model 77 Style Selection Chart
Click on the photos below for a larger view.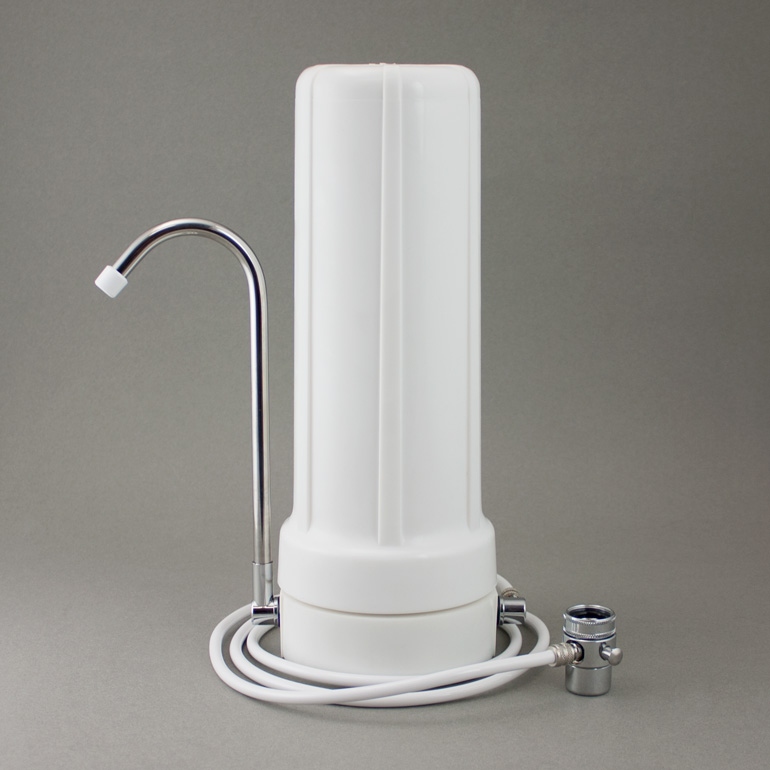 White Low-Ribbed : The King
Part # : CF001
This is our most popular style.
Perennial Best Seller, Classic White Low-Ribbed Vessel. We call this model "The King." The standard cartridge is the MatriKX CTO+, but you can get it with others at no extra costs. This is a tough vessel that can be converted to undersink use if desired.
Accepts Full-Sized 9.75" X 2.5" Cartridges.
| | | | |
| --- | --- | --- | --- |
| CF001 | Model 77 : The King | $77.00 | |
---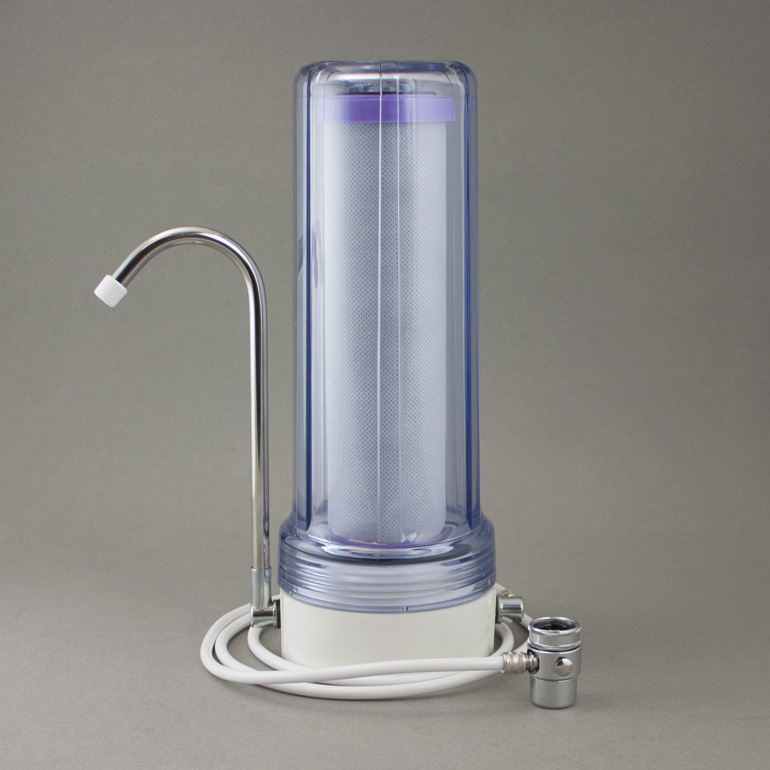 Model 77 : Clear
Part # : CF003
It takes its color from the cartridge installed. In the picture the cartridge is the standard MatriKX CTO+ carbon block. The advantage of clear housings is that they let you see what the exterior of the cartridge has collected; this is also their disadvantage. The crisp, white CTO+ cartridge in the picture can start looking pretty ugly after a few months of exposure to tap water.
Accepts Full-Sized 9.75" X 2.5" Cartridges.
| | | | |
| --- | --- | --- | --- |
| CF003 | Model 77 : Clear | $77.00 | |
---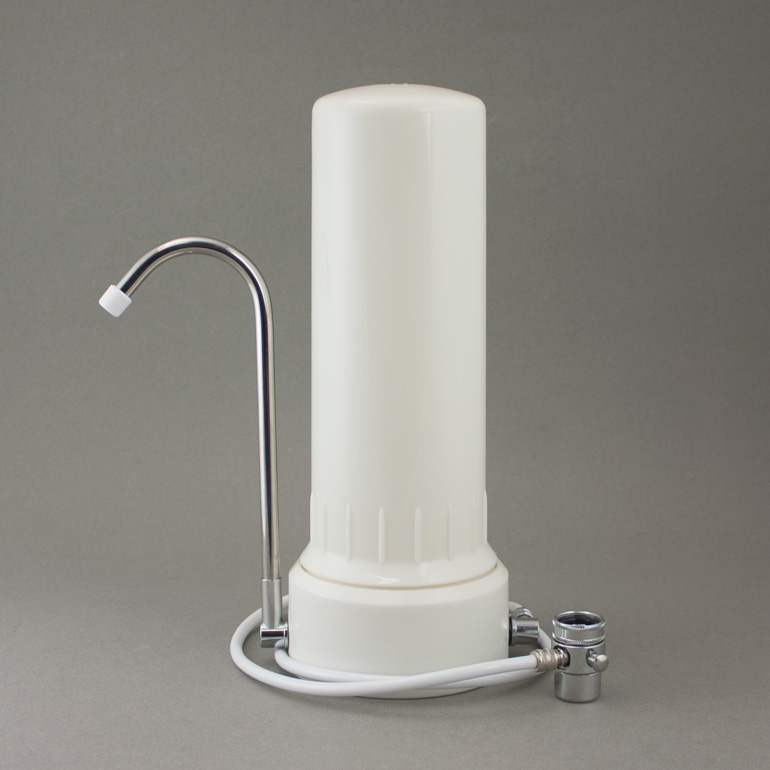 White Smooth—The Continental Style
Part # : CF002
This is a lighter weight housing than the heavy ribbed King, above. We don't recommend it if you plan to convert it later to undersink use. For countertop use, though, it's great. It comes apart easily for cartridge changes.
Accepts Full-Sized 9.75" X 2.5" Cartridges.
| | | | |
| --- | --- | --- | --- |
| CF002 | Model 77 : The Continental | $77.00 | |
---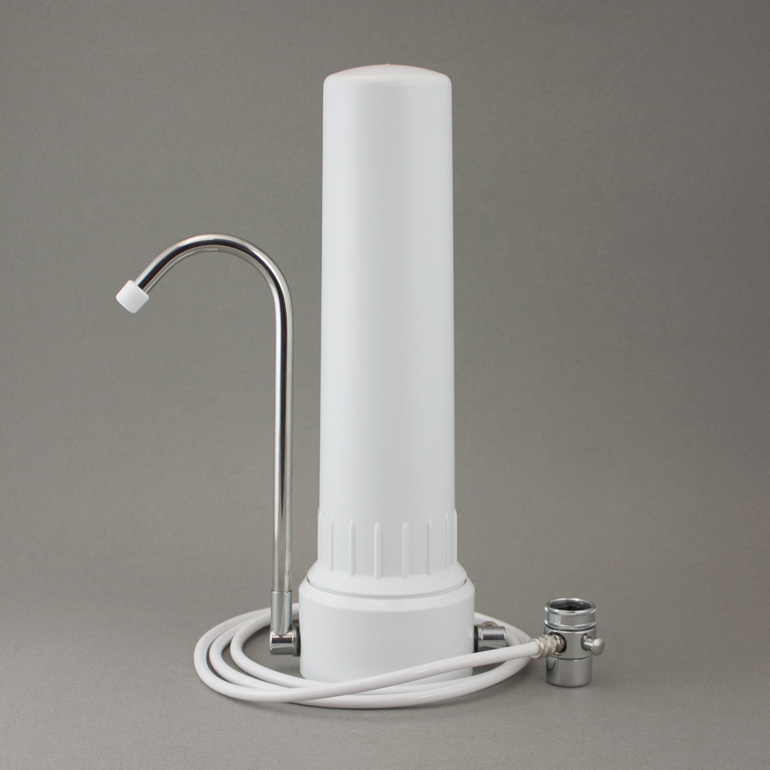 Model 77s : Slimline, or "Candle-Style"
Part # : CF008
Tall, elegant and easy to maintain. Accepts Doulton and other "candle-style" cartridges. The standard cartridge is the Slimline MAXPB extruded carbon block with lead removal, and any of the other Doulton cartridges will fit.
Accepts Candle-Style Cartridges.
| | | | |
| --- | --- | --- | --- |
| CF008 | Model 77 : Slimline | $77.00 | |
---
Slimline / Candle-Style Cartridge Menu
---
MAXPB is the standard cartridge for Model 77s.
Slimine MAXPB (formerly KX-Pb1)
Slimline MAXPB nominal 0.5 micron carbon block. Built-in lead and cyst-removal capabilities. Recommended change time: 9 months to one year. More info here.
| | | |
| --- | --- | --- |
| FC794 | $29.00 | |
---
Doulton Super-Sterasyl
Doulton C-DSS ceramic candle that removes bacteria and cysts, with a small carbon core built-in to improve taste and odor. See our gravity filter section for full advantages of the ceramic cartridge. Ceramics protect against cysts and bacteria, but the carbon cores are less effective than the two filters above for chlorine and chemical reduction. More info here.
| | | |
| --- | --- | --- |
| FC701 | $42.00 | |
---
Doulton UltraCarb
Doulton C-DU ceramic candle that removes bacteria and cysts, with a carbon block core capable of lead reduction, taste/odor improvement, and high volatile organic chemical removal. More info here.
| | | |
| --- | --- | --- |
| FC702 | $48.00 | |
Standard Model 77 Cartridge Menu
---
Note: Model 77 comes equipped with a filter cartridge, so you won't need a replacement for a year.
The price of the unit is $77, regardless of the cartridge chosen. Prices given in the list below indicate cost of replacement cartridges. If you want to order an extra cartridge with the unit, it will add to the price of the unit. Our most popular cartridge is the MatriKX CTO+. We use it in Model 77, undersink filters, & reverse osmosis units.
The CTO+ is our standard cartridge for all full-sized Model 77 units. It's what you'll get if you don't specify a cartridge.
---
MatriKX CTO+
(Formerly KX-1) Great all around chlorine and chemical filter. This carbon block has exceptional chlorine & chemical reduction capacity, & it produces great-tasting water. (The manufacturer's name for the cartridge is "The Chlorine Guzzler.") We recommend that you change it annually. More info here.
| | | |
| --- | --- | --- |
| FC001 | $21.00 | |
---
MatriKX Pb1
The Pb1 has slightly less capacity than the two cartridges above for chemicals and chlorine, but it removes lead and cysts (crypto and giardia). Change annually. More info here.
| | | |
| --- | --- | --- |
| FC004 | $29.00 | |
---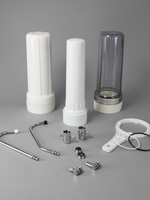 Parts for all standard countertop water filters, including housings, spouts, diverter valves, spout and tube elbows, o-rings, tubing, faucet adapters and more.
(or any countertop filter) to an undersink unit. We have an inexpensive kit that makes it easy.
---