Black & White Series Reverse Osmosis
---
Questions?
Call us at (888) 382-3814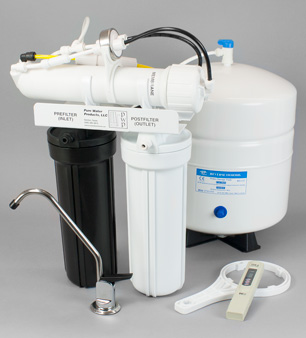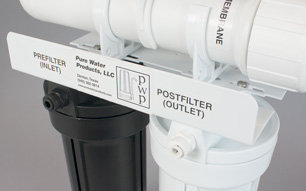 Our Black & White Series Reverse Osmosis units have been sold and installed in the Denton area since the early 1990s and have been shipped to our out-of-town customers since the mid-1990s.
We've continued to improve our basic design, so that our Black & White unit is now the most easily installed and reliable standard reverse osmosis unit available anywhere. Instructions are short and precise; phone support is free.
Reverse Osmosis: A Complete Drinking Water Treatment
Reverse Osmosis is our main product. We consider it to be the most complete and effective home drinking water treatment. It provides very high quality water in a convenient delivery system, at a reasonable initial cost and with only moderate upkeep.
A typical home reverse osmosis unit uses activated carbon filtration to remove chemicals, bad tastes and odors, along with a very tight semi-permeable membrane to reduce "dissolved solids" like sodium, and heavy metal contaminants like lead, aluminum and arsenic. Unlike most standard water filters, RO units will also remove fluoride and nitrates.
For overall performance, see related article.
Black & White Series
Our Black & White reverse osmosis units are offered in three styles: the standard three-stage for top-quality performance on city water, the 50/50 Series for low water-usage, and custom built units made to your specifications. All are built with tough, reliable and standard-sized parts — the best we can find in every category:
MatriKX extruded carbon blocks (much better than RO filters have to be).

Reliable and effective Filmtec thinfilm membrane, or the innovative Pentair GRO membrane for our 50/50 series.

Tomlinson Pro-Flo ledge faucet, with pre-installed tubing for quick installation.

Ultra-reliable Payne control system that shuts the unit off when the storage tank is full.

Tough, heavy-duty filter vessels and membrane housing built onto a strong, steel frame.

John Guest tubing joined together with o-ring sealed quick connect fittings for leak-free performance and ease of installation.

A top-quality NSF certified metal storage tank.
Our Black & White series also includes an electronic dissolved solids tester to allow you to monitor the system's membrane function. (Unlike filter cartridges, membranes should be replaced according to performance, not time. As long as it works, you don't replace it.)
The entire unit is guaranteed for two years from date of purchase, excluding only the expendable carbon filter cartridges, which should be replaced annually, and the RO membrane, which is replaced as needed. (A typical membrane life is three to five years.)
Black & White: Standard Three-Stage
Order the standard three-stage unit if you'd like the one that we recommend to most customers on municipal water supplies.
During checkout, you'll be asked to provide information about your cold water undersink setup and faucet preference.
Standard three-stage unit. Complete with all installation accessories and a TDS tester to monitor the performance of the membrane.
Standard three-stage unit with Aquatec Permeate Pump to improve membrane efficiency. Complete with all installation accessories and a TDS tester to monitor the performance of the membrane.
Black & White: 50/50 Series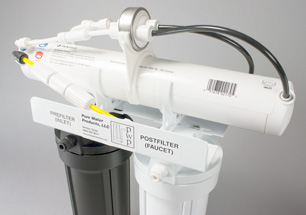 Our Black & White: 50/50 Series offers an environmentally-friendly alternative to traditional reverse osmosis units.
Water Saving Reverse Osmosis
We consider reverse osmosis to be the best home treatment for drinking water, but nothing is perfect. One imperfection of reverse osmosis is that it uses more water than what ends up in your cup — often, quite a bit more.
A standard undersink reverse osmosis unit will send, at best, about four cups of water to drain for every cup of purified water produced. "At best" means when the storage tank is empty and not putting back pressure on the membrane.
As the tank fills, back pressure makes the ratio of product water to drain water worse.
Our Black & White: 50/50 series units change the 4:1 ratio to a genuine 1:1. A gallon of product water goes into the storage tank for every gallon of reject water that flows to drain. This 50/50 performance is achieved by using Pentair's exceptional new GRO membrane. With the GRO, greater membrane efficiency allows the use of less drain water to keep the membrane clean.
Three-stage unit with Pentair GRO high recovery membrane. Complete with all installation accessories, faucet, storage tank and a TDS tester
Built to order four stage unit with Pentair GRO high recovery membrane. Complete with all installation accessories, faucet, storage tank and a TDS tester
Black & White: Built to Order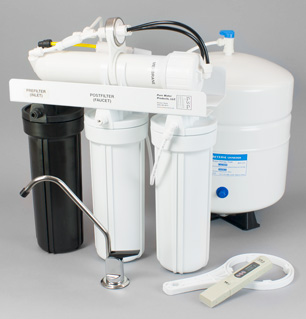 "But Sam's Discount Store Has a
5-stage Unit. That Must Be Better..."
Actually, 5-stage systems aren't any better than three, unless there's a reason for the extra stages.
Mass merchandisers build big systems with extra stages for several reasons. They're building for a national market, so they throw in a little something for everyone. For example, a pre-sediment filter is necessary if the unit is to process well water that has sand in it, but for most city water customers the sediment filter is just a bother and an added expense to replace. The store-clerks who sell the systems usually don't know much about them, so the manufacturer builds something that looks impressive to the buyer. Bigger is assumed to be better, and five-stages must be better than three or four.
The result is a unit that has to be serviced often (cheap cartridges don't last long), is hard to service (you have four cartridges to replace rather than two), and has a lot more things that can go wrong.
What we prefer is to build the unit according to what you need and want. We start with our basic three-stage system, then add anything else you might need. Cartridges can be added or substituted as you wish without changing the basic unit price.
Built to order. Complete with all installation accessories and a TDS tester to monitor the performance of the membrane.
Built to order. Complete with all installation accessories and a TDS tester to monitor the performance of the membrane.
Additional Upgrade Options
Some free options:
Increased Production. The 24-gallon-per-day system almost always makes a lot more water than people need. But if you want more, we'll build a 36-gallon or 50-gallon system or even larger at no extra charge. (No disadvantages to the bigger system except that smaller membranes usually last longer than high production models and the TDS reduction performance is a bit better.)

Filter Substitutions. If you have special requests for filter cartridges, we'll substitute whatever we have in stock at no additional charge. For example, if you have iron in your water, we'll give you a KDF-based prefilter or perhaps a Filox to protect the RO membrane from iron. Or, if you want all coconut shell carbon filters, we'll supply them. We have specialty cartridges that remove bacteria, deal with chloramines, or increase the pH of water leaving the RO unit —lots of choices for special needs.

Miniturization. If you have a really small space to work with, we can make compact units that fit the space you have. We'll also provide a scaled-down storage tank if the regular one won't fit your space. (Smaller tanks cost us more than standard-sized tanks.)

Plumbing Extras. If you need a tee to hook your refrigerator to the RO unit, just tell us and we'll supply it. We also have a great John Guest refrigerator connector that lets you hook to the back of your refrigerator without so much as a wrench. We'll also throw in inline valves, extra tubing, etc. If you'll describe your installation, we'll include everything you need.

Need parts for your reverse osmosis unit? Visit our parts page.

Other Reverse Osmosis Units We Sell
---