Large Backwashing Filters
---
Questions?
Call us at (940) 382-3814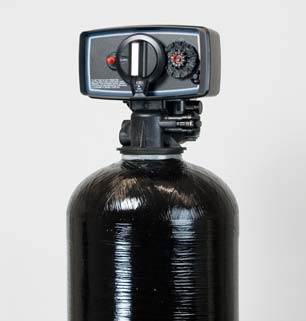 Pure Water Products does basic well water testing at no charge.
If you'd like, send us a sample.
Fleck 5600 Filter Series
This series of softener-sized backwashing filters addresses the most common problems of city and rural customers.
Automatic backwashing filters are simple, straightforward devices with few moving parts. They need an electrical supply, but their electrical consumption is negligible — about the same as the timer on your kitchen range. (We can supply a non-electrical, manual backwash version of these filters if needed. Details are at the bottom of this page.)
Water enters the filter tank from the top via the control valve, passes downward through the filtering medium to the bottom of the tank where it enters a riser tube that sends it up and out to your service line. It's a simple device, and there isn't a lot that can go wrong. The control valve times the operation and backwashes the medium at intervals that you preset — for example, every fourth day or every sixth day — according to need. Backwashing cleans the filter medium, fluffs it up, and restores the filter's capability. The backwashing process is done in the early morning hours when filtered water is least likely to be needed.
Advanced Vortech Tank
With the exception of calcite filters, each of the filters offered below features an advanced 10" x 54" Vortech mineral tank loaded with 1.5 cubic feet of filter medium.
With the Vortech tank, no gravel underbase is needed, as is the case with conventional filter tanks.
(Calcite filters feature a dome-hole tank to ease in servicing media, for which a gravel underbase is provided.)
Complete Installation Accessories
The filters offered below are complete with everything you need to install, plus easy-to-follow printed instructions and phone/email support if needed. Included with each filter:
Stainless steel bypass valve for easy connection to your plumbing.

Flexible drain tubing.

Funnel for easy loading of media. (Weight of the filter media makes pre-loading before shipping impractical.)

Delivery anywhere in the continental USA. (Please inquire about shipment to other localities.)
When you order, you'll be asked to choose between a connection to either 3/4" or 1" pipe. The price is the same, but you'll make your installation easier if you know your pipe size when you order. (If you're installing on pipe larger than 1", you should probably consider a larger filter.)
Standard Granular Activated Carbon (GAC)
Carbon provides excellent dechlorination and aesthetic improvement and is the most frequently chosen medium to treat chlorinated city water. Removes chemicals and small amounts of hydrogen sulfide, and can be a good iron remover, but only if used behind an oxidizer like air or chlorine.
Part #
Description
Price
BW006

1.5 Cubic Foot Standard Carbon Filter

$598.00
Catalytic Carbon
Centaur catalytic carbon is a specially prepared carbon made by the Calgon corporation, for the removal of hydrogen sulfide and iron from well water, or chloramines from municipal tap water. Makes a great "whole house" filter for general city water use, especially where chloramines are used, and works well with oxidizers like air and chlorine for sulfide or iron removal. This filter costs more than the standard GAC filter above because catalytic carbon is quite expensive.
Part #
Description
Price
BW003

1.5 Cubic Foot Centaur Catalytic Carbon Filter

$697.00
Birm
Birm is a medium specially prepared for iron removal. It has the ability to oxidize iron, and can remove small amounts of iron without pre-treatment, but it works best following aeration. It is also effective at manganese removal. The pH must be 6.8 or above for birm to work properly.
Note: Birm should not be used on chlorinated systems.
Part #
Description
Price
BW001

1.5 Cubic Foot Birm Filter

$592.00
Calcite
Calcite is a neutralizing medium designed to raise the pH of acidic water. Calcite filters use the same 5600 valve, but have a slightly different tank with a dome hole that permits the addition of calcite without removing the filter valve.
Calcite filters includes 2 cubic feet of calcite — enough for the initial filter load, plus a 50 lb. box to spare. Calcite dissolves slowly as the filter operates, so it has to be replenished occasionally.
(Calcite is inexpensive but heavy, so shipping is a factor in cost. Our price includes shipping of 200 lbs. of calcite. Delivery of this item is often by truck.)
Go here for a picture and more details.
Part #
Description
Price
BW002

10" X 54" Calcite Filter

$695.00
Sediment Filtration
Filter Ag
Filter Ag is a general purpose medium that lasts almost forever. It makes an excellent sediment filter and will remove iron from water of a neutral pH that has been properly treated with chlorination or aeration. It is light and backwashes easily. There is very little pressure drop using Filter Ag. Filtration is down to about 20 microns.
Part #
Description
Price
BW005

1.5 Foot Filter Ag Filter

$524.00
Multi-Media
Multi-Media is a traditional favorite for sediment removal. It consists of natural filtration materials like sand, garnet, gravel and anthracite arranged in layers to achieve sediment filtration down into the 10 to 20 micron range. The standard multi-media unit sold here uses 45 lbs. garnet, 35 lbs. sand, and 25 lbs. anthracite. If you want to put alternate media into the mix, let us know.
(The price is higher than that of some filters because of the weight of the media. Remember that our prices include shipping.)
Part #
Description
Price
BW007

10" X 54" Multi-Media Filter

$635.00
ChemSorb
ChemSorb™ is one of the newer sediment filter media on the market. Its main ingredient is high purity natural zeolite. It has the advantages of high flow rate vs. low backwash requirement. The 10" filter requires about 7 gallons-per-minute backwash capacity, but supports a service rate of 7 to 10 gallons per minute. It has a nominal filtration rating of 5 microns — better than Filter Ag or Multi-Media.
Part #
Description
Price
BW004

10" x 54" ChemSorb Filter

$573.00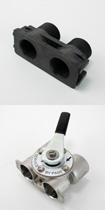 Yokes and Bypasses
A control valve cannot be installed without either a yoke or a bypass valve. The filters on this page come standard with a bypass valve. The bypass is an especially helpful feature when servicing a filter. If for some reason you prefer the yoke, let us know when you order and we will refund you the price difference.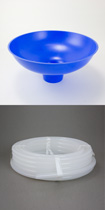 Funnels and Drain Lines
Filters we sell come complete with a media funnel (a funnel especially designed for loading media into filter and softener tanks) and 50 ft. of flexible drain tubing. There is no charge.
If you wish to purchase drain tubing or a softener funnel separately, visit our backwashing filter accessories menu.
Manual Control Filter
If you want any filter above with a Fleck 2510 manual backwashing valve rather than the 5600 timer valve, simply tell us that in the comments section of the shopping cart and we'll deduct $60 from the price shown. The manual filter needs no electrical connection, but you'll have to manually initiate and turn off the backwash and rinse functions. (Note on ordering: the shopping cart will not subtract the $60 price adjustment, but we'll refund it before your order is shipped.)
Links to Additional Backwashing Filter Information
---
---