Q Series Cartridges
---
These handy, easy to change units can be used as reverse osmosis pre- or post-filters, countertop filters, undersink units, or refrigerator filters.
All Q Series filters look alike except for decals and length. We stock only the 12" versions, but we'll be glad to get 6", 8", or 10" models upon request.
Q Series Cap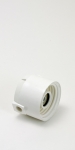 Cap for all Q-Series cartridges. 1/4" Female Pipe Thread Ports. Fittings not included, but can be purchased from our RO parts page.
---