Enhanced Performance Undersink Fluoride Filter
---
The World's Second Best
Fluoride Remover
The best undersink device for removing fluoride from drinking water is a reverse osmosis unit. The third best way is with a standard filter with an activated alumina (AAL) filter cartridge—the kind that lots of people (including us) sell.
The second best way to remove fluoride from drinking water is with our enhanced performance undersink fluoride filter. It uses the same AAL cartridge as standard fluoride reduction units, but it incorporates a superior delivery system that significantly improves the performance of the fluoride cartridge. It doesn't do this by magic or through high tech electronics but simply by reducing the flow rate of water through the fluoride reduction cartridge to the rate recommended for AAL.
---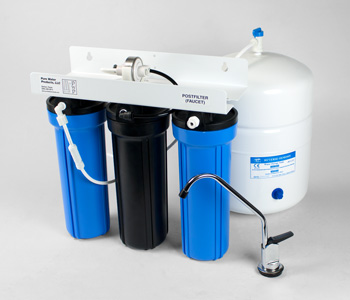 ---
Vital Statistics:
| | |
| --- | --- |
| Height | 14" |
| Depth | 6.5" |
| Width | 14" |
| Standard Tank Dimensions | 8.5" diameter; height, with tank valve, 13.5" The main unit can stand or be wall mounted. Comes with a cradle that allows it to be side mounted if desired. The storage tank connects to the unit with a single tube, so undersink tank location is flexible. |
Cartridge Replacement: We recommend annual cartridge replacement for top performance.
Unit accepts standard 9.75" X 2.5" filter cartridges. Any cartridge this size can be substituted. Any cartridge on this page will fit the unit.
If you're ordering from the cart and want a cartridge substitution, just tell us what you want in the comments section. There is no charge for cartridge substitutions.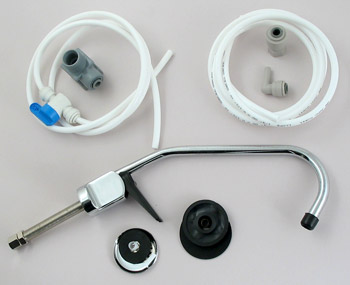 The fluoride filter comes with its own ledge faucet and inlet hardware — everything you need to install. (Inlet kit may vary.)
---
This unit includes your choice of our Tomlinson brand Pro-Flo (pictured) or Contemporary "Value" style ledge faucet.Please select the faucet style during checkout. (Additional pictures, faucet styles, colors & finishes are available at our faucet page.)
The standard filtration medium for removing fluoride from water is activated alumina. (And, no, before you ask, it doesn't leach aluminum into the water.)
AAL, as it is usually called, has one major problem that sellers of fluoride filtration systems conveniently ignore. It requires a very long contact time between the water and the fluoride reduction medium.
A carbon filter that's used to remove chlorine, by contrast, works quickly. With a standard-sized carbon filter, chlorine can be handily removed at a flow rate of 3/4 to one gallon per minute. Activated alumina, in a standard-sized 2.5" X 9.75" cartridge, should process water no faster than about 1/4 gallon per minute. This is very slow by the standards of most water filters on the market. A standard undersink unit usually delivers water at about three times that rate. The accelerated flow rate, though convenient for the user, significantly diminishes not only the effectiveness of the AAL cartridge, but it greatly shortens its life expectancy as well.
What we've done in our Enhanced Performance Fluoride Filter is provide a way to slow down the flow through the AAL cartridge to the recommended 1/4 gallon per minute, but to allow water to flow through the carbon filters that accompany it and out of the faucet at the normal flow rate of carbon filters. Thus, you have a highly effective fluoride filter and water that comes from the faucet at normal speed. And what comes out is fluoride-free, lead-free, chemical-free, great-tasting water.
The Enhanced Performance Fluoride filter is a triple filter unit. It uses full-sized 9.75" X 2.5" filter cartridges for long life and effective filtration. The two carbon blocks on the standard unit are made by our favorite carbon block maker, MatriKX. The Pb1 (more information here) is a superb carbon block filter with lead and heavy metal reduction resin added, so tight that it's also rated for removal of giardia and cryptosporidium. The MatriKX CTO+ (formerly KX-1, more information here) is a tight 0.6 micron carbon block with outstanding chlorine and chemical removal properties. These are the carbon block cartridges used in our most popular and effective standard undersink filters.
The Enhanced Performance Fluoride Filter uses a small reverse osmosis-style pressure tank to store fluoride-free water and deliver it at full speed to the faucet. This is a small tank (8.5" Diameter X 13.5"), so it doesn't take a lot of undersink space. It attaches to the rest of the unit with a single 1/4" tube, so it can be located anywhere under the sink. Installation and service are no more difficult than with standard undersink filters, except that about once a year you'll need to add a bit of air to the storage tank with a small air pump. (The pump isn't included with the unit. A bicycle pump works well. Everything else you'll need is included.)
The standard tank holds about 1.75 gallons of water, but the unit refills it quickly, at the rate of about a quart a minute. If you want a larger tank, ask for it in the comments section and we'll include our standard 3.2 gallon RO tank at no extra charge. For most users, the smaller tank is more than adequate.
Although the unit uses a reverse osmosis pressure tank, it is not a reverse osmosis unit. It doesn't use water (it has no connection to the drain pipe) and it doesn't reduce the mineral content or the pH of the water. Every drop that goes into the unit comes out as usable water. Also, delivery is faster than with a reverse osmosis unit because the storage tank is filled to full tap-water pressure. (Reverse osmosis units fill the storage tank to about 2/3 of the incoming tap water pressure.)
Part #
Price
UF050
$249.00
(Call to order.)
Enhanced Performance Undersink Fluoride Filter, Complete. Includes Filter Cartridges, Faucet, Inlet System, Pressure Tank, and Tubing. A filter wrench to facilitate cartridge change is included, as are instructions for installation and upkeep.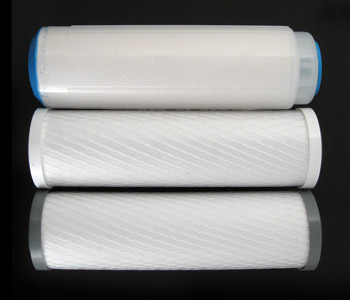 Part #
Price
FC998
$77.00

Filter Pack For Enhanced Performance Fluoride Filter. Contains AAL fluoride cartridge, MatriKX Pb1 carbon block, and MatriKX CTO+ carbon block. (Buying the pack is cheaper than buying the individual cartridges.)

The new unit comes with cartridges, so you won't need replacements for a year.
---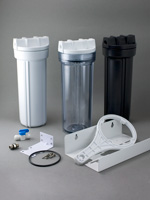 Parts for all undersink water filters, including housing and brackets, faucets, inlet kits, o-rings, screws, tubing and more.