Iron Bacteria
---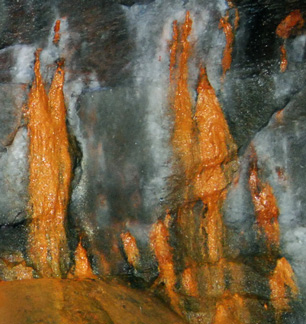 Iron bacteria are bacteria that derive their energy from oxidizing iron commonly found in groundwater. These bacteria present no threat to health, but they can cause severe straining and damage to fixtures and water treatment devices. They are also an aestheic nuisance and often result in taste and odor issues.
The most common sign of iron bacteria in the water supply is a reddish-brown or yellowish gelatinous slime in water tanks, faucets, toilet tanks, and plumbing. These nuisance bacteria may cause corrosion to treatment equipment, clog screens and pipes, and have a foul odor. It can also be difficult to get rid of.
Water Treatment for Iron Bacteria
Although such radical treatments as well pasteurization can be used, by far the most common approach to iron bacteria control is chlorination. Although sometimes shock chlorination of the well can completely fix the problem, this is rare. Usually, regular, repeated chlorine treatments or constant chlorination are the best solution.
Chlorine Required to Obtain a Concentration of 200 ppm

Casing diameter

Volume of water needed

5.25% domestic chlorine bleach

12% industrial sodium hypochlorite

*70% high test hypochlorite

inches

millimetres

gallons per 1 ft. (30cm) of water in the casing

litres per 1 ft. (30cm) of water

litres per 1 ft. (30cm) of water

litres per 1 ft. (30cm) of water

grams per 1 ft. (30cm) of water

4

(100)

1.1

5

0.019

0.008

1.44

6

(150)

2.4

10.9

0.042

0.018

3.12

8

(200)

4.2

19.1

0.072

0.032

5.46

24

(600)3

extra 200 gal.

extra 1,000 L

0.34

0.148

25.4

36

(900)3

extra 200 gal.

extra 1,000 L

0.76

0.34

57.2