Water Filters for Sand and Large Particles
---
Questions?
Call us at (888) 382-3814
---
We offer free tech support by phone if you have a problem in installation or service.
---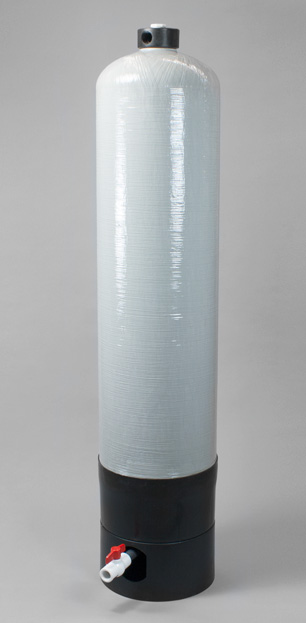 The patented Sand Trap offers a unique way to separate and settle out bothersome sand, shale and oxidized organics found in some water supplies. The Sand Trap system does this not by conventional filtration but by directing the water through an internal swirl chamber then into a diverting plate. The process causes heavier particles to settle to the bottom of the tank for removal via a simple blow down valve.
The Sand Trap can be used as an only treatment, if large particles are the only issue, or as a pretreatment for other equipment.
The system is virtually maintenance free, with no moving parts and no sophisticated backwash control needed. It does not require electricity and its drain water can be directed anywhere (for lawn irrigation, for example), since no chemicals are added to the water.
Four sizes to choose from, and this is a product where bigger is often better.
All Sand Trap models have 1" in and out connections. Maximum flow rates vary from more than 25 gallons per minute for the largest unit down to a maximum of about 10 gallons per minute for the smallest. The smallest unit is recommended only for removal of heavy particles. In fact, the smaller and lighter the particles being removed, the larger the tank should be. This means that for fairly fine sediment, the largest system should be used at a reduced flow rate. Even with flow rates of no more than 5 gallons per minute, the largest unit is the best choice if small particles are the issue.
The largest Sand Trap model will handle flow rates in the 25 gallons-per-minute range and higher with large particles.
Plumbing connection is 1" in and out, for all models, and the blow down drain connection is 3/4".
The best thing is that there are never any filter media or filter cartridges to replace. The product is simple and designed to last for many years. There is a 5 year manufacturer's warranty on both the tank and the head assembly.
---