Axeon L1-300 Light Duty 300 GPD
Reverse Osmosis System
---
A versatile, compact RO unit that can fulfill a variety of needs.
---
The AXEON L1-300 is a compact but powerful reverse osmosis unit capable of putting out a dozen gallons per hour of top quality water. This unique system can be used for drinking water or a variety of purposes: small greenhouses, spot-free car washing, aquariums and fish ponds, window washing businesses, cleaning solar panels, coolers, humidifiers, small water vending enterprises, and much more.
It can be used with a traditional reverse osmosis pressure tank, with non-pressurized holding tanks, or with no tank at all if a large flow rate isn't required.
| | |
| --- | --- |
| Production | 300 Gallon Per Day |
| Typical TDS Rejection | 95% (Zero TDS water possible with deionizing cartridge.) |
| Membrane Size | 2.5" X 21". Optional high energy membrane and nano membranes are available. (Please call for information.) |
| Cartridge Size | 9.75" X 2.5" filter cartridges on 10" unit; 2.5" X 20" cartridges on 20" unit. |
| Port Size | 3/8" Inlet and Outlet. 1/4" drain. |
The L1-300 is an ideal unit for a large home with high water demand, with plenty of water pressure and capacity to furnish not only drinking and cooking water, but also to supply multiple refrigerators, ice machines, etc. It is an ideal water source for high water use aquariums.
It's also ideal for small businesses, making enough water to service a modest kitchen and lounge area and to allow employees to fill water bottles.
It can even be adapted as a "whole house" RO system for small homes by giving it a large storage capacity such as our "whole house option" installation package.
The L1-300 is built in the USA by Axeon (formerly RO Ultratec), one of the nation's most experienced RO makers and parts suppliers. The design is excellent — compact, but accessible for easy service. It comes fully assembled, ready to use. You need only a water source, access to a drain, a storage tank (atmospheric or pressurized), and a 110 volt electrical source. (Please call if you prefer a 220-volt unit.)
It's fully automatic. Automatic shutoff is controlled by either a float switch in a non­pressure tank or 40 psi back-pressure from a pressure tank. The unit comes equipped for use with either shutoff option. The Aquatec pump boosts pressure to run the unit at a comfortable 100 to 125 psi, and three pressure gauges are included for easy monitoring. The L1­-300 shuts off when the storage tank is full and produces water when there is a demand, with an automatic 30­ second membrane flush upon startup and after every hour of continuous operation. The continuous duty pump is capable of around-­the-­clock service if large quantities of water are needed.
As with all reverse osmosis units, actual rate of production may vary according to water conditions. High Total Dissolved Solids and cool water temperatures, for example, will cause lower production.
Standard cartridge set up is appropriate for well or city water: sediment prefilter, carbon block prefilter, and carbon postfilter.
Standard, easy to obtain parts.
Quiet, vibration-free operation.
No assembly required. Ready to install and use.
Wall mounts for easy access, or stands independently in the optional heavy duty stand.
No assembly required except loading the membrane. Ready to install and use upon delivery.
10" AXEON L1-300 Reverse Osmosis
20" AXEON L1-300 Reverse Osmosis
TDS Monitor Upgrade
This option may be added to either the 10" or 20" unit.
Replacement Cartridges
The L1-300 uses standard sized filter cartridges. You can buy replacements from us (certainly the best plan) or (perish the thought) from almost anyone else who sells water filters.
Additional cartridge choices for these units can be found on our cartridge catalog.
Cartridges for 10" L1-300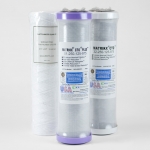 5 Micron Sediment, CTO Carbon Block, CTO+ Carbon Block. Fits both Axeon L1-300 and Flexeon LT-300 units.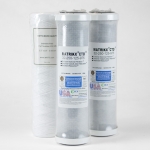 5 Micron Sediment, 2 CTO Carbon Blocks. Fits both Axeon L1-300 and Flexeon LT-300 units.
Cartridges for 20" L1-300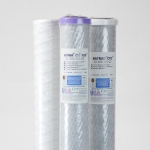 5 Micron Sediment Filter, CTO Carbon Block and CTO+ Carbon Block. Fits both Axeon L1-300 and Flexeon LT-300 units.
5 Micron Sediment Filter and two CTO carbon blocks. Fits both Axeon L1-300 and Flexeon LT-300 units.
Replacement Membrane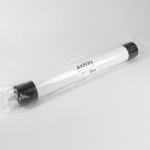 Axeon HF4 2.5" X 21" Membrane. Fits both Axeon L1-300 and Flexeon LT-300 units.
Product Manuals and links.
---