Simple Undersink Filters
---
Single, Double, and Triple Filters that filter all the cold water at your sink and do not need a separate ledge faucet or inlet valve.
These are convenient, easy-to-install filters for those who do not wish to install a separate ledge faucet for purified water on their sink. They fit under the sink and filter all of the cold water that comes from the faucet. They cost less than our standard undersink filters because the separate faucet and inlet valve are not needed. They are very easy to install. No holes to drill, no faucet or inlet valve to install.
Since installations vary considerably, no fittings are supplied. We'll leave the details to your plumber or the hardware store.
The standard system has 3/8" female ports, but we'll make it in 1/2" if you ask.
The unit comes in single, double or triple versions, and all are bracket-mounted. The single unit should be wall mounted. The double and triple versions will stand independently or can be hung from a wall.
---
Standard Models
In the list below, the "default" cartridges are listed. This is what you'll get if you don't specify otherwise. You can, however, substitute cartridges. Just be sure to tell us what you want. You can also look on our Cartridge Menu for other options in the 9.75" X 2.5" section. Keep in mind that very tight cartridges, especially ceramics, don't lend themselves well to the higher flow rates of these freer flowing systems.
Note: If you want to choose alternative cartridges, just tell us what you want in the "Comments" section of the shopping cart.
---
Suggested Cartridge List
| | | | |
| --- | --- | --- | --- |
| FC001 | MatriKX CTO+ extruded carbon block (formerly KX-1). Nominal 2-micron carbon block with great chemical and chlorine capacity. Great taste/odor improver, and a fine all-around cartridge. | $21.00 | |
| FC004 | MatriKX Pb1 extruded carbon block with lead and cyst removal properties built in. Great all-around chemical/chlorine cartridge, plus lead and cryptosporidium/giardia removal. | $29.00 | |
| FC037 | Filtrex Greenblock™ coconut shell carbon block. Great taste/odor filter, plus excellent chemical removal, including volatile organic chemicals (VOCs). | $19.00 | |
| FC108 | 5 Micron Sediment. A five-micron spun polypropylene sediment reduction cartridge. A recommended choice if you have lots of rust, sand, or general particulate in your water. It will be placed first to protect your other filters. | $7.00 | |
Please call for advice if you're in doubt about cartridge selection.
---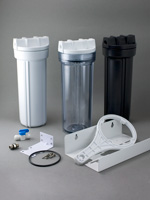 Parts for all undersink water filters, including housing and brackets, faucets, inlet kits, o-rings, screws, tubing and more.