Simple Undersink Filters
---
Questions?
Call us at (940) 382-3814

Single, Double, Triple and even Quadruple Filters that filter all the cold water at your sink and do not need a separate ledge faucet or inlet valve.
These are convenient, easy-to-install filters for those who do not wish to install a separate ledge faucet for purified water on their sink. They fit under the sink and filter all of the water that comes from a current cold-water faucet. They cost less than our standard undersink filters because the separate faucet and inlet valve are not needed. They are very easy to install. No holes to drill, no faucet or inlet valve to install.
Since installations vary considerably, no fittings are supplied. We'll leave the details to your plumber and local hardware store, or you can order the basic Cold Water Inlet Kit below. In most cases this will be all you need to install.
The standard system has 3/8" female ports, but we'll make it in 1/2" if you ask.
The unit comes in single, double, triple and quadruple versions, and all are bracket-mounted. The single unit should be wall mounted. The multi-housing versions will stand independently or can be hung from a wall.
Recommended Cartridges
Please note that these filtration units are sold without cartridges. Cartridges for the unit can be ordered from those suggested below, or from our complete Cartridge Menu. Any standard 9.75" X 2.5" cartridge will fit these units, but keep in mind that very tight cartridges, especially ceramics, don't lend themselves well to the higher flow rates of these freer flowing systems.
If you are in doubt about cartridge selection, please call or email for advice.
Installation Hardware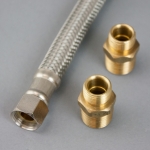 Kit includes a 24" braided stainless steel supply line (3/8" X 3/8" Female Compression) and two brass 3/8" Compression X 3/8" Male NPTF fittings. Used to connect a
Simple Undersink Filter
with an existing cold water faucet connector.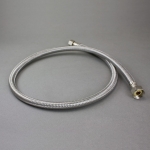 Braided stainless steel supply line for connecting a cold water valve or a
Simple Undersink Filter
to a standard faucet stem with 1/2" connection.
Suggested Cartridge List
Please call for advice if you're in doubt about cartridge selection.

Our complete 2.5" x 9.75" filter cartridge menu. Please call for advice if you're in doubt about cartridge selection.

Parts for all undersink water filters, including housing and brackets, faucets, inlet kits, o-rings, screws, tubing and more.
---