Inline Filter Cartridges
---
Filters in this class are throw-away systems. Replace the entire element. They are versatile systems that serve many needs. Most of our inlines are available in the quick connect John Guest format. That means you simply push the tubing into the cartridge for a tight, secure fitting. We also stock everything in 1/4 female pipe thread versions for existing installations that need this version. And, as an option, we offer everything in 1/4" male treaded Jaco-Style.
When ordering, you will be asked to choose the connector style. Prices vary according to the connector.
We currently stock inlines in 6" and 10" lengths. 10" are by far the most common.
Space permitting, you can replace one size with another. For example, if your RO unit came with a 6" inline post filter, you can enhance its performance by replacing the 6" filter with a 10" unit.
---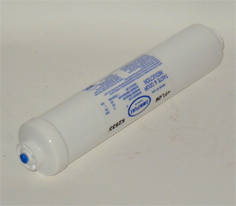 Pictured: Our Omnipure 10" inline with John Guest quick connect fittings permanently installed. A handy, easy to install, easy to replace filter with great versatility. It is most often used as a refrigerator filter or a reverse osmosis postfilter, but it can be adapted to any situation where a high quality granular carbon filter is needed.
The same filter is available in a shorter, 6" format. It fits into tight places. This unit is frequently used as a reverse osmosis post filter and a refrigerator filter.
---
Fitting Explanation Table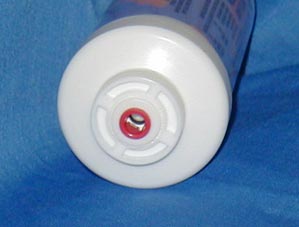 At right is the popular quick connect inline format. The fitting allows a 1/4" plastic or copper tube to be pushed into the fitting. It releases by simply pushing inward on the small collet (the red circle in the picture) that contacts the tube.
Our experience is that quick connects work well on copper but are hard to release. We recommend converting copper tubing to plastic for refrigerator installations. (We can supply what you need if you'd like to convert.)
A popular and convenient format for refrigerator filters and reverse osmosis postfilters.
The straight fitting shown here is standard, although we offer one style with a quick-connect elbow. An elbow can be made by adding "push-in elbows" pictured below.
---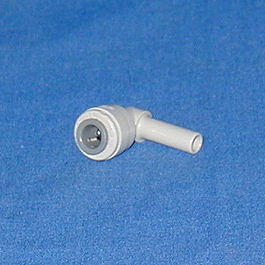 This very handy part, called a John Guest plug-in elbow, allows creation of a swiveling elbow from the straight fitting, as shown.
---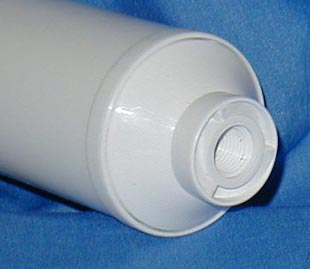 At right is an inline with 1/4" pipe thread female fitting--this is the most common inline fitting and is what is used on most reverse osmosis post filters. Unfortunately, changing it requires removal of the the old fittings, retaping them, and reinstalling them into the ends of the filter. To simplify the problem, we offer conversion to either male threads or quick connect. Options are shown below.
---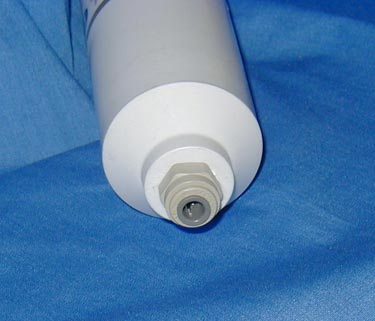 The picture at right shows the threaded inline above with John Guest connectors added.
---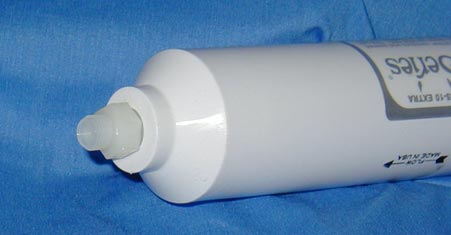 At right is the same filter converted to the popular "Jaco" 1/4" compression fitting. This is the most common style for reverse osmosis postfilters.
---