Watts Ultraviolet Disinfection Systems
---
We stock and supports all four models of Watts' tough but attractive stainless steel ultraviolet disinfection systems. Watts ultraviolet units provide strong UV dosage (30 mj/cm2 at the end of the lamp's life) that is certified by independent testing (BioVir.)

All Watts stainless steel UV units feature a highly polished 304 stainless steel reaction chamber and simple, easy lamp replacement. Lamps are rated for 12 months of continuous service and all Watts stainless steel units come in both 110 and 230 volt format.
Maximum recommended flow rates are from 2 to 12 gallons per minute. NMPT pipe size for in/out ports is 1/2" (2 gpm unit), 3/4" (6 and 8 gpm units), and 1" (12 gpm unit).
All Watts stainless steel UV systems come with both audible and visual alarm to indicate lamp failure.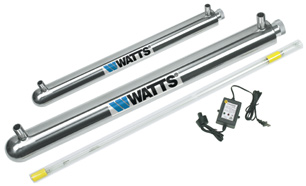 Units include all necessary parts:
UV Reaction Chamber
UV Lamp
Quartz Sleeve
Power Supply
Mounting Clips
Product Features
Disinfection without chemicals.
Effective disinfection for chlorine-resistant bacteria, viruses, cysts.
Lamps rated for 12 month continuous service life.
304 stainless steel reactor chamber.
Audible and visual alarm indicating lamp failure.
Easy lamp replacement service.
Available in 110v and 230v.
Strong 30 mj/cm2 dose at specified flow rate at the end of lamp life.
Low upkeep cost consists of annual lamp replacement.
No complicated electronics to deal with — just plug it in and turn it on.
Watts UV – 2 Gallons Per Minute Unit
Watts 2 GPM Ultraviolet Unit - 110 Volt
Watts 2 GPM Ultraviolet Unit - 230 Volt
Watts UV – 6 Gallons Per Minute Unit
Watts 6 GPM Ultraviolet Unit - 110 Volt
Watts 6 GPM Ultraviolet Unit - 230 Volt
Watts UV – 8 Gallons Per Minute Unit
Watts 8 GMP Ultraviolet Unit - 110 Volt
Watts 8 GMP Ultraviolet Unit - 230 Volt
Watts UV – 12 Gallons Per Minute
Watts 12 GMP Ultraviolet Unit - 110 Volt
Watts 12 GMP Ultraviolet Unit - 230 Volt
Watts UV Replacement Lamps
Watts UV Replacement Quartz Sleeves
---