Countertop Water Filter Replacement Parts
Questions?
Call us at (940) 382-3814

The parts on this page are for sale only to those who foolishly bought a countertop filter that isn't a Model 77.
That's because replacement parts for Model 77 are free to owners of our authentic Model 77 units, which have a lifetime parts guarantee (only the filter cartridges are excluded).
---
Parts for all standard countertop water filters, including spouts, diverter valves, spout and tube elbows, o-rings, tubing, faucet adapters, and more.
---
Parts on this page are those used on our world famous, often imitated but never equaled Model 77 Countertop, "the world's greatest $77 water filter."
The spouts, diverter valves, and tube and spout connecting elbows are all American-made by our favorite small parts maker, QMP of California.
Tube connections are made with compression fittings, so it's easy to replace parts on your current unit, even if the tube connections on your non-Model 77 countertop are made with clamps or barbed fittings. To install parts on your countertop filter with 1/4" tubing, simply cut the tube squarely, back the nut from the fitting onto your tube, work the end of the tube over the barb, and screw on the nut. You have a tight compression fitting that won't leak. No tools needed except scissors to cut the tube.
If you have trouble identifying the parts on your countertop, or if you aren't sure our part will work for you, please call or email for advice.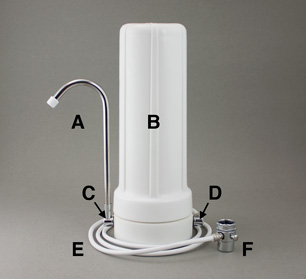 Standard Model 77 Countertop Filter
Standard Stainless Steel Spout

"King" Style countertop housing

Spout Elbow (attaches the spout to the housing)

Tube Elbow (attaches the tube to the housing)

3 feet of Countertop Tubing

Compression-attached Diverter Valve
Stainless Steel Spouts and Spout Elbows
O-Rings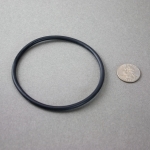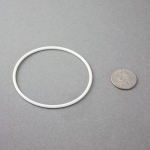 Fits slimline or "candle-mount" style filter housings. Used in our
Slimline Model 77
countertop water filters.
Replacement Parts for Model 77UV / QMP Ultraviolet Countertop
Replacement filter cartridge for Model 77UV is available here.

"The world's greatest $77 water filter." Our standard countertop filter that we've been perfecting since the late 1980s.

(or any countertop filter) to an undersink unit. We have an inexpensive kit that makes it easy.
---