Aeration System Parts
Questions?
Call us at (940) 382-3814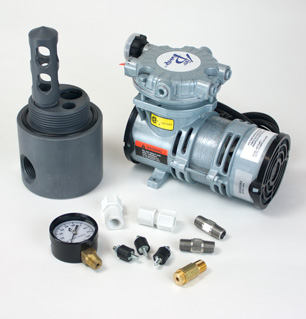 For complete aeration systems, deluxe vertical tank mount, double aeration kit, and other aeration supplies, please see our main Aermax systems page.
Note: These pumps are not designed to inject fluids. Ozone can be used under certain conditions, but wet ozone will erode the aluminum pump body. Use with ozone will void the warranty.
---
Air pumps and parts, mounting shelves, aeration tanks, installation kits, vent kits, and repair kits for air pump and solenoid.
---
This page features parts for high capacity, full-vent aeration systems. Parts on this page are compatible with the Aermax systems we sell, and will interchange with parts from many water aeration systems.
We don't list venturi valves ("micronizers"), passive air vents, small aeration tanks or other parts used with low-cost aeration systems, but we can usually provide them if you call.
General Pump Information
Weight: Around 8 lbs.

Water resistant (can be operated in a somewhat moist room atmosphere, but should not be used outdoors).

Withstand temperatures of 40 to 100 degrees Fahrenheit if there is not excessive moisture.

Noise Level: Approximately 50 decibels.

Life Expectancy: 20,000 to 25,000 hours before bearings need replacement.

Materials: Body and most parts are aluminum. Valves are stainless steel, and the compression cup is Teflon. Pumps have 16-gauge wire.

Compression Technology Used: Rocking Piston with Induction (not commutator) motor.

Injection Output: 0.38 cfm @ 0 psi. 0.15 cfm @ 50 psi.

Maximum Pressure Output: 100 psi, but recommended maximum operating pressure is 70 psi.

Normal Air Pump Cycle: 5 to 10 psi of well pump setting. For example, if the well pump is set at 30-50 psi, the air pump might run at 30-35 psi.

Recommended Maintenance: Replace Teflon compression cup every 12,000 hours. Replace bearings every 20,000 to 25,000 hours. The motor is self-lubricating. Do not oil.
Air Pumps
In general, the standard air pump handles treatment systems with service flow rates up to 15 gpm. Above 15 gpm, use the commercial-grade pump. All pumps include an air intake filter.
Air Pump Installation Kits
Includes pressure gauge, poly connectors, tubing, air regulator valve, check valve, and shelf.
Installation Kit includes metal shelf, two 1/4" MIP stainless steel check valves, ARV (Air regulator valve), 0-100 psi pressure gauge, poly connectors, and tubing. For use with standard air pump.
For use with Heavy Duty Air Pump. Includes 0-200 psi gauge, poly connectors with tubing, ARV (air regular valve), PVC manifold, brass nipple, and mounting shelf.
Aeration Tanks
Tank Sizing Rules: Gallon capacity of an aeration tank should be at least double the gpm flow rate. The standard 10" X 54" tank holds 16 gallons of water and handles flow rates up to 8 gpm. The standard 12" X 52" tank holds 22 gallons and handles flow rates up to 10 or 11 gpm.
Air Pump Miscellaneous Kits & Parts

Systems sold on this page are designed to follow Aer-Max closed tank aeration systems. Follow the link for more information about Aer-Max systems.

There are many options for filters that can follow an aeration system. Follow the link for some advice on treatment and some suggested filter options.
Additional Information on Aer-Max and Aeration
---
Single Tank Aerator
Single Tank Aerators are unique aeration systems that perform both oxidation and filtration in the same tank. When contaminant levels are low they are a great alternative to Aer-Max.
---