Multipure™ Carbon Block Filters
---
Multipure™ Stainless Steel, Solid Carbon Block Filters — Undersink, Countertop and Inline Models
---
Questions?
Call us at (940) 382-3814
---
We offer free tech support by phone if you have a problem in installation or service.
---

The Multipure name has been synonymous with quality since the early 1980s. We offer commercial-grade stainless steel CBVOC inline models with our own superior undersink or countertop upgrades, or as basic inline units.
The stainless steel housings on all our commercial units have Multipure's unprecedented 25 year warranty.
Multipure Availability
We no longer offer Multipure products, if you purchased a Multipure unit from us and need replacement parts or cartridges please contact us via email at pwp@purewaterprodcuts.com and we will assist you in locating them.
Multipure Inline
with Undersink Upgrade
We've taken the classic Multipure inline filter (see below) and upgraded it with the superior inlet parts and faucet that we use with our own undersink filters.
The standard faucet is an attractive Tomlinson brand NSF-certified "Pro-Flo" or Contemporary "Value" style ledge faucet. Just select the faucet of your choice from the dropdown during checkout. (You won't need an "air gap" since this isn't a reverse osmosis unit.) We also carry additional styles and finishes on our faucet page.
Stainless Steel Housing

John Guest Quick-Connect Fittings — no tools needed.

Tomlinson NSF-Certified Faucet

Inlet kit for installation on either copper or flexible pipe.

25 Year Warranty on Multipure Housing
SV or EZ?: Undersink water filters get their inlet water from the cold water pipe that goes to the regular sink faucet. If your cold water pipe is copper, please select the SV Model inlet during check-out, and we'll include a self-piercing saddle valve. If you have a flexible cold water tube, please select the EZ model inlet, and we'll include the proper adapter. This makes installation easy and saves you a trip to the hardware store.
---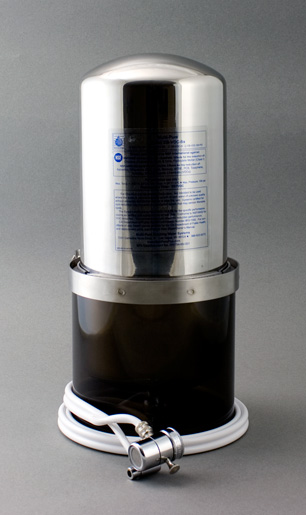 Multipure Inline
with Countertop Upgrade
This stylish countertop unit uses a "return" style diverter and therefore needs no spout. When the diverter is activated with the knob, water is sent through the Multipure unit and filtered water is returned to the small outlet on the diverter valve itself. The unit uses our own superior diverter system coupled with the NSF­certified Multipure inline filter (see below).
Installation is quick: just remove the current aerator from your sink faucet and replace it with the diverter. An adapter pack is included to accommodate the most common faucet setups.
Stainless Steel Housing

Pure Water Products Superior "Return-Style" diverter valve brings filtered water directly to the faucet.

25 Year Warranty on Multipure Housing
---
Multipure Inline
The inline unit is exactly like the undersink and countertop models, but nothing is included except the standard Quick-Connect fittings. If you want 3/8" rather than 1/4" fittings, just tell us when you place the order.
Inline models are typically used to supply refrigerators, aquariums, water coolers, or other non-faucet applications. Simply push in plastic tubing for undersink or refrigerator use or to feed a direct line to an aquarium or water cooler. Or, if you prefer, you can remove the push-in fittings and install compression fittings for use with copper tubing.
Stainless Steel Housing

John Guest Quick-Connect Fittings

25 Year Warranty

NSF Certified 750 Gallon Performance
Other Countertop Filters We Sell
---