Countertop Reverse Osmosis
Questions?
Call us at (940) 382-3814
---
We offer free tech support by phone if you have a problem in installation or service.
---

---
Two basic styles. Reverse Osmosis that's easy to install, easy to service & economical.
---
Our countertop RO units use the same membranes and filters as our larger undersink units and produce water of the same high quality. We'll build to your specifications after talking with you, or you can order one of our standard models listed below. We build two basic styles and are open to suggestion if you have special requirements.
"Countertop" means more than that the unit sits on the kitchen cabinet. It refers to a style of reverse osmosis unit that produces directly into a container and does not have the pressurized storage tank used on undersink reverse osmosis units. This allows for the omission of several standard undersink reverse osmosis parts, like automatic shutoff systems and check valves. The design is simpler and the unit is less expensive.
Countertop reverse osmosis is in many ways the greatest bargain in purified water. You get more water for your money than with undersink reverse osmosis systems because with countertop units the storage tank, the ledge faucet, and several small internal parts are not needed. The price you pay is convenience. Undersink units produce and store water automatically, but with countertop reverse osmosis units you have to work a little for the water.
These systems are designed to provide top quality water for customers who don't want to install an undersink system. They aren't for people with a low tolerance for inconvenience.
These units are designed to function mainly as bottle fillers. The unit will fill a five-gallon bottle with top quality drinking water while you sleep or watch TV, then you put the RO unit away until you want to fill another bottle. It's also a favorite among specialty users, like greenhouse and aquarium owners. It can be used in the kitchen, the laundry room, in a motor home — anywhere there's a water source and a drain. We even have a garden hose or outdoor faucet attachment if you'd like to put it on the patio.
Water quality with countertops is the same as with undersink units — sometimes a little better — because the unit doesn't have to work against the pressure of the storage tank.
We'll build it with full-sized vessels (as in the picture below), space saver vessels (like the vessel used for the countertop filter in this picture), inline vessels (like the Style B unit below), or Q Series convenience vessels — as you wish.
Most of our customers choose one of the two basic styles below, which you can order from the shopping cart. But if you want something different, please call.
---
Style A
Full-sized system. This unit is identical to our Black & White undersink units, except it's styled to operate as a countertop.
Water enters the black vessel, passes through a carbon block filter, then goes to the reverse osmosis membrane (white horizontal vessel), then another carbon block filter (white vertical vessel).
| | |
| --- | --- |
| Standard Production | 50 gallons per day |
| Dimensions | 5.5" deep, 18" tall, 14.5" wide. |
| Approximate Annual Upkeep | Less than $40 for filters per year / $55 membrane every three years or so |
This unit can stand free, as shown, lie on its back, or be hung on a wall. It uses standard MatriKX carbon block 10-inch filter cartridges and a 50 gallon-per-day Filmtec membrane. We can alter the production upon request. (Vessel colors are negotiable. If you want all white, for example, let us know. Clear vessels — vertical only — are also available upon request at no increase in price.)
The two carbon block filters should be changed annually and the membrane approximately every third year. If you own a TDS Tester (see below), you can usually save money on membrane changes.
Standard cartridges for this unit are MatriKX CTO prefilter (black housing) and MatriKX CTO+ post filter (white housing). Other cartridges can be substituted upon request. Cartridges at our standard 9.75" x 2.5" size cartridge page fit this unit.
Part #
Description
Price
RO200
Style A — Full-Sized Countertop Unit
$197.00
---
Style B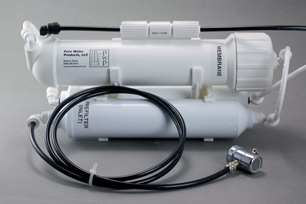 This compact system features disposable inline filters. The prefilter is a five-micron carbon block and the postfilter is a granular coconut shell carbon. It's very easy to use, easy to service. Water enters a carbon block filter, passes through the reverse osmosis membrane (top vessel), and exits through a granular carbon filter. The cartridges are from top makers — Pentek and Omnipure.
| | |
| --- | --- |
| Standard Production | 50 gallons per day |
| Dimensions | 6" deep, 6" tall, 14" long |
| Approximate Annual Upkeep | Less than $40 for filters per year / $55 membrane every three years or so |
Fifty gallon-per-day production is standard, but we can make it produce more on request. As with Style A, the standard membrane is a Filmtec 50 gallon per day TFC.
We recommend an annual change of the two carbon filters and "as needed" change of the membrane. Normal membrane life is about 3 years. (Owning a TDS tester can save money on unneeded membrane changes.)
Replacements for this unit are parts IF001 and IF103 on this page
Part #
Description
Price
RO201
Style B — Inline Countertop Unit
$197.00
---
Suggested Cartridges
Part #
Description
Price
FC003

Style A Prefilter: MatriKX CTO Carbon Block

Prefilter for Full-Sized Countertop Unit

A "workhorse grade" carbon block that makes a great prefilter. Recommended change: once a year. Any cartridge on our 2.5" x 9.75" size cartridge page will fit this unit, so you can make substitutions if you want

$16.00
FC001

Style A Postfilter: MatriKX CTO+ Carbon Block

Postfilter for Full-Sized Countertop Unit

A premium quality carbon block that makes a great RO postfilter. Recommended change: once a year. Any cartridge at our standard 2.5" x 9.75" size cartridge page will fit this unit, so you can make substitutions if you want.

$21.00
IF103

Style B Prefilter: 10" Inline nominal 5-micron carbon block

Top quality reverse osmosis prefilter. Change annually.

$25.00
IF001

Style B Postfilter: Omnipure 10" NSF-certified GAC inline filter

John Guest Quick Connect Fittings. Manufacturer's recommended service life: 1500 gallons.

$15.00
---
Suggested Accessories
Part #
Description
Price
RC400

Hand-Held Electronic TDS Tester

A standard reverse osmosis diagnostic tool.

Measures the "dissolved solids" of your tap water & RO water to allow you to verify the unit's performance. You don't have to have one, but it helps!

$33.00
---